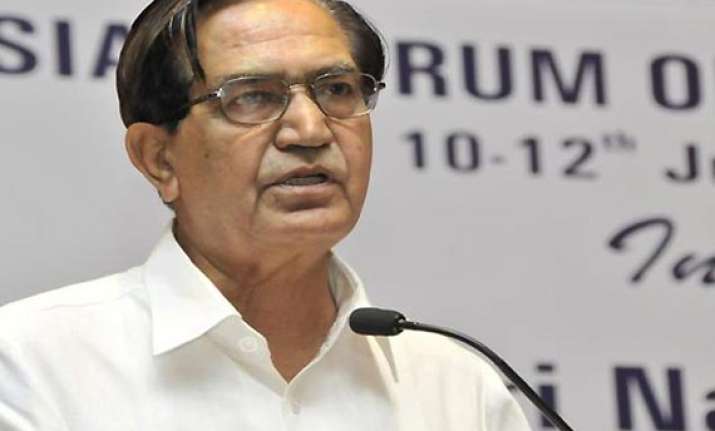 Jaipur: Union minister and Congress' Dausa candidate Namo Narain Meena may be pitted against his brother Harish, who is fighting on a BJP ticket, but he ruled out possibility of any rift in family due to the poll battle and left it to voters to decide who is the better of the two.  
"It was the decision of the party high command to declare me a candidate from Dausa constituency where my brother is contesting election as BJP candidate but this would not create bitterness in our family and social relations," 70-year Meena told PTI.
The Union Minister of State for Finance emphasised that it is not a brother versus brother but a party versus party fight in Dausa (ST) seat where polling will take place on April 24.
His younger brother Harish served as DGP of Rajasthan from March 2009 to December 2013 during the Ashok Gehlot government. This is his debut in the poll arena.  
"Congress has showed faith in me and gave me a ticket and I am a disciplined soldier of my party. Several political parties and candidates contest elections in a democracy but I feel that, instead of who is the candidate, what matters are the parties and what their policies are," Namo Narain Meena said, adding it was up to voters to chose one of them as MP.  
Namo Narain has been shifted to Dausa this time from Tonk-Sawaimadhopur constituency where former cricketer Mohammad Azharuddin is contesting on a Congress ticket.  
Namo Narain, also a 1969-batch IPS officer who served up to Additional DG rank in his service, is a two-time MP. He won from Sawaimadhopur in 2004.
After delimitation, he got elected from Tonk Sawaimadhopur constituency in 2009 by defeating BJP candidate and Gujjar leader Kirori Singh Bainsla, by a narrow margin of 317 votes—the lowest winning margin in that year's polls.  
During the state assembly elections last year, BJP had filed a complaint with the election department accusing DGP Harish Meena of 'partisan conduct'.