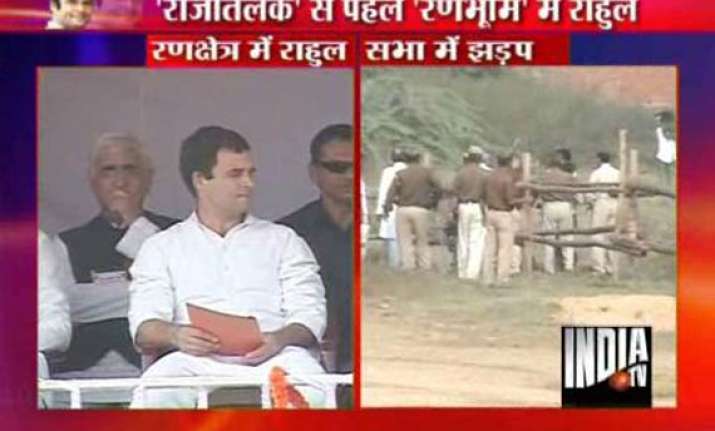 Phulpur, UP, Nov 14: It  appeared to be a scene lifted from a Bollywood action  film. As Congress leader Rahul Gandhi alighted from his helicopter at the helipad  near his rally site, fawning Congress leaders awaiting to welcome him with bouquets rushed towards him.
 
Soon after, somebody pointed out to some Samajwadi Party activists waving black cloth from near the barricades.
 
Several Congress leaders left Rahul Gandhi midway, and in the melee that ensued, the Congress leaders  ran towards one of the activists, grabbed him, threw him to the ground and began kicking him.
 
Congress leaders Pramod Tiwari, CPN Singh and Jitin Prasada were seen pummelling and kicking the SP activist.Local policemen also pitched in, with some of them raining lathi blows and hitting him with the butt of their guns.
 
Stern faced SPG men directed the police to drag the man away, who was carrying a black cloth.The SP had decided to show black flags to Rahul Gandhi to protest corruption and pricerise.
 
SP general secretary Mohan Singh told India TV that he condemned this brutal beating up of the man.
 
"It exposes the true face of Congress. These Congress leaders  beat up the man in a show of sycophancy.
 
"In a democracy, every citizen has the right to protest, and the man was only showing a black cloth. It betrays the despondency among the Congress leaders.", said Singh.
 
Asked why then was the SP supporting the Congress at the centre, Mohan Singh said, we have not given unconditional support. "We gave conditional support on some issues".
 
Congress leaders were repentant. They said, such persons deserved such a thrashing particularly when their leader was going to kickstart his UP poll campaign.