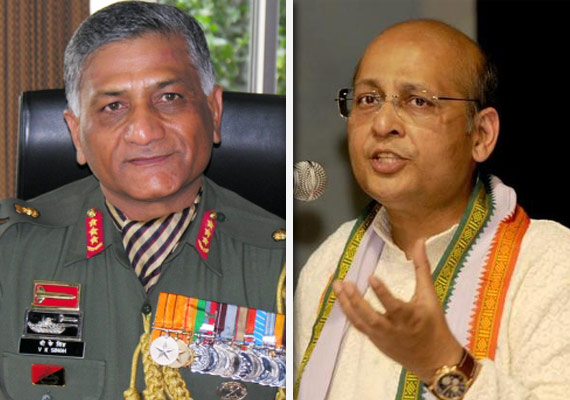 New Delhi, Mar 26: Congress today came with a guarded response on the controversy over Army chief Gen V K Singh's allegation that he was offered a bribe of Rs 14 crore to swing a defence deal and the Defence Minister's ordering a CBI inquiry into it.
Party spokesperson Abhishek Singhvi said the "right tradition and convention" established in political parties is "not commenting on Army and Defence matters", especially something concerning the Army Chief and hence it is incumbent on Congress not to comment on the issue.  
He at the same time maintained that that there was no doubt that the Defence Ministry will appropriately look into the matter if a complaint has been made.  
To repeated queries why there was a delay on the part of Defence Ministry to order a probe into it even as the compalint was made one and half years back, Singhvi merely said "I have said what is my party stand. Do not drag me into facts which I do not know."
A senior Congress leader, speaking on condition of anonymity, however, said there is "nothing against the government" in what the Army chief has said as the complaint relates to either someone in the Army or a lobbyist.  
The leader also said there are questions why the Army chief did not bring up the issue in public domain immediately after it had happened or whether he made any written complaint to the government in this regard.  
In Kolkata, former Army chief Gen (retd) Shankar Roychowdhury today termed Army Chief's claim that he was offered bribe as "a serious matter" and wondered what action the government had taken so far.  
"The Army Chief has claimed he had informed the Defence Minister (of the bribery offer amounting to Rs 14 crore) which is absolutely a correct step. But what has the Defence Ministry done so far on this ?" Roychowdhury sought to know.  
The former chief of the Army staff told PTI here that something should have been done on Gen Singh's allegation as "it is a serious matter".
"As a matter of security for defence forces, you are trying to compromise with the system (by offering bribes)," he said, adding the Chief of the Army Staff is a very prominent person "but at the same time a very vulnerable person too".  
On Defence Minister A K Anthony ordering a CBI probe into the matter, Roychowdhury asked, "What action did the Defence Ministry take so far? To whom they talked in the course of investigations, that is not known. No idea if the government had done anything on the Army Chief's allegations even primarily".