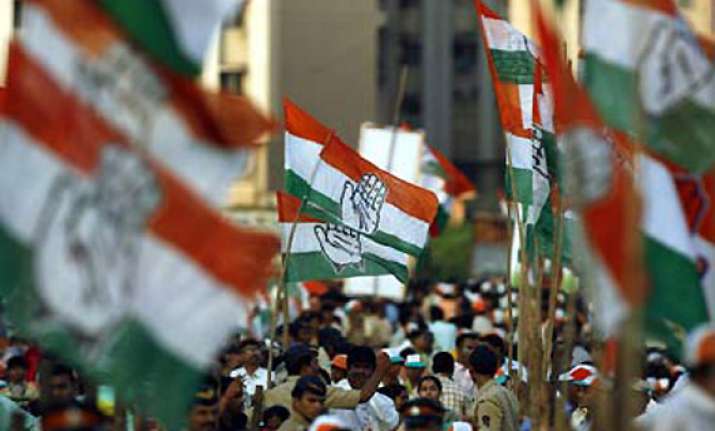 Mumbai, Apr 16: Congress today bagged almost half the seats in elections to five municipal corporations in Maharashtra, outshining NCP which managed only 64 of the 371 seats up for grabs.
The party's most impressive performance came in Latur, from where Union minister Vilasrao Deshmukh hails.
Congress bagged 49 of the 70 seats, fending off a challenge by NCP, which managed only 13 seats. Shiv Sena won 6 and others two.  
Voting was held yesterday in latur, Chandrapur and Parbhani which were upgraded into corporations, and also in Malegaon and Bhiwandi-Nizampur corporations.  
Congress and NCP, ruling alliance partners in state government, contested the polls separately.  NCP fared better than Congress in Parbhani, where it won 30 of the total 65 seats. Congress won 23, Shiv Sena 8, BJP 2 and others 2 seats.
In Chandrapur, from where state BJP chief Sudhir Mungantiwar hails, Congress won 26 of the total 66 seats, while BJP won 18 seats. NCP won 4, Sena 5, MNS 1, BSP 1 and others 11.
In Bhiwandi Nizampur Municipal Corporation, Congress won 26 of the total 90 seats. NCP won 9, Sena 16, BJP 8 and others 15 seats.
In the Bhiwandi civic body, independents have ruled with the support of Congress-NCP or Shiv Sena-BJP alliances since its inception. Bhiwandi, 44 km from Mumbai, is a power loom city with Muslims as majority community.  In Malegaon, Congress won 25 of the total 80 seats.
NCP won 8, Sena 11, MNS 2 and others won 34 seats.  Out of the total 371 seats bagged by political parties in the five civic bodies, Congress won 149, NCP-64, Shiv Sena - 46, BJP-28, MNS-3, BSP-1, other state parties-21, registered parties-31 and independents-28.
Conceding defeat in Latur, NCP MP J M Waghmare said the rival party (Congress) had used money power in the polls, distributing sarees to women and giving cash to voters.  
Deshmukh thanked voters for the trust shown in Congress and assured that there would be no shortage of funds for developmental schemes.