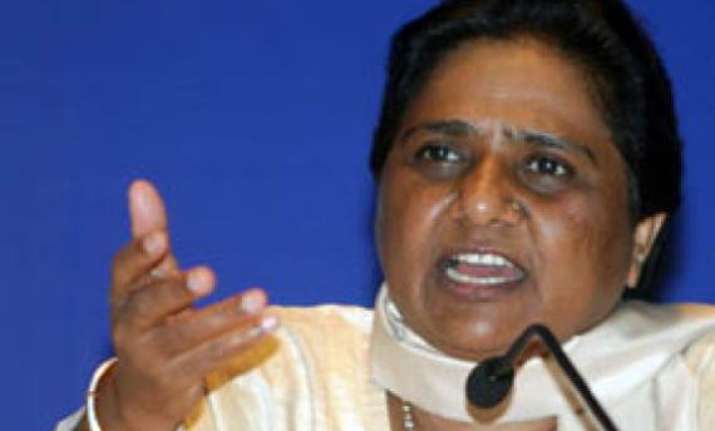 Lucknow, Dec 18: Stung by Rahul Gandhi's criticism, Uttar Pradesh Chief Minister Mayawati today lashed out at the Congress saying the party has "lost its mental balance" due to which it sees "elephant" eating money.

"The Congress, it seems has lost mental balance due to which it sees elephant eating money. The party, which failed to do any good to people in its 40 years rule is seeking their support again for forming government in the state for five years and claiming to change their fortunes," she said.

Mayawati was addressing a rally of Muslim, Kshatriya and Vaish communities here to seek their support for the upcoming Assembly elections.

Her remark came in the wake of Gandhi stating that an "elephant" in Lucknow was eating away all the money sent by the Centre for the poor in Uttar Pradesh.

In an apparent reference to the ruling BSP and its poll symbol, the elephant, the Congress leader had taunted Mayawati saying poll-bound UP has decided to "throw away" this elephant.

Alleging that Congress was shying away from initiating any concrete steps to bring back black money stashed away abroad, Mayawati asked the party to announce that 50 per cent of it, if brought back, would be spent on UP.

"I challenge them to announce that they will spend 50 per cent of the black money brought from foreign countries for development of UP...I know they will not do that...The role of Congress leaders appears dubious due to which it is not taking strict action to bring back black money," she alleged.
Terming the proposed Food Security Bill of UPA as a ploy to gain political mileage, Mayawati said the Centre was bringing the bill to provide free food to poor keeping in view the upcoming Assembly polls in UP, Uttrakahand and Punjab to gain public sympathy.

"It (the Bill) will be put in the dustbin once elections are over. This is only to lure voters", she claimed.

The chief minister cautioned the people that if Congress was voted to power in the state, it will hand over all small and big businesses to foreign companies by allowing FDI.

Mayawati said she wanted to tell people to be wary of the "nefarious designs" of the party and not trust it.

"Congress has not yet rolled back its decision on FDI but has just put it on hold for the time being," she said.

She alleged that Congress-led UPA government at the Centre has failed to respond to the state's request for special package for Bundelkhand and Purvanchal, reservation to upper caste poor and division of state into four parts.

The BSP chief asked the people not to vote for SP and BJP, saying these parties would not do any good for them.

She coined a slogan "Chhad vipaksh ki chhati par, button dabega Haathi par" (pin down opposition, vote for BSP).

Mayawati also warned the voters that if SP succeeded in forming government in Uttar Pradesh, there would be "goonda raaj" (lawlessness) and no one would be safe.

About BJP, she said its success would only help communal forces and the common man would have to suffer.

Coming down heavily on BJP for making allegations of corruption against her family members, Mayawati advised the party to work on increasing its mass base instead of indulging in this kind of propaganda.

"In over for years of BSP rule, the BJP did not find any fault in companies of my family members and senior party leaders," she said, implying that as the elections were approaching, the BJP was seeking to tarnish the ruling party's image.

Mayawati asked the BJP to leave the job on Income Tax department and concentrate on increasing its mass base.

Asking her party workers to remain alert against any propaganda that could be initiated by opposition parties and some mediapersons with casteist mentality, she said CDs and pamphlets could be released in the coming days to malign the image of BSP.