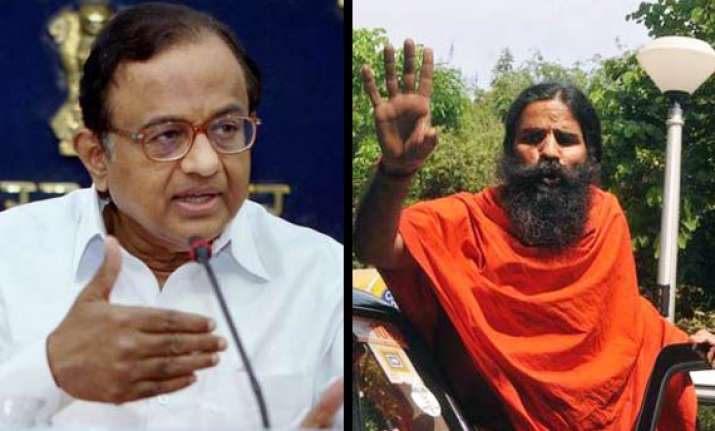 New Delhi, Jun 8: Home Minister P Chidambaram on Wednesday obliquely warned Swami Ramdev from raising an armed cadre saying that he will then have to face the full brunt of law.
 
Addressing a press conference, Chidambaram said: "I have seen the statement of Ramdev (on raising armed cadre). By making this statement he has exposed his true colours and intentions. Let him do so and the law will deal with that."
 
The Home Minister revealed that there was "input that harm could be done to Baba Ramdev. This was shared with Ramdev. That's why Delhi Police took the decision that he should be removed from Delhi."
 
Chidambaram also said Ramlila Maidan was in a "sensitive area" and preventing huge crowds there is a complex task. "A small spark could have caused conflagration", he added while explaining why Delhi Police had to take action on June 4 midnight.
 
He said that permission had been given to BJP to hold meetings in Delhi On June 5 and 6 at Rajghat and to Anna Hazare  to stage sit-in today. Ramdev was given permission for yoga camp from June 1 to 20.
 
"Baba arrived on June 1, he was engaged in talks till June 3. On 4th he did not keep his assurance. Delhi Police then decided he should be removed from Delhi. What the police did is known to everybody. And why they did it, they will explain in their affidavit to the court."
 
According to the Delhi Police, Chidambaram said, there were 4,000 people  at Ramlila Maidan  for the first 3 days, but on June 4, the crowd swelled from 1,500 in the morning to 30-40,000 in the evening. According to police,  by June 5 Sunday it could have swelled to a lakh, because of large number of vehicles coming.
 
The Home Minister said, government engaged Ramdev in talks and hoped he will confine himself to yoga. "Perhaps he never had the intenction for carrying out his assurance."
 
Askd whether they would be a blanket ban on Ramdev entering Delhi, Chidambaram said, it would depend on what he comes to Delhi for and then Delhi Police would take a decision.
 
Asked on Ramdev in his fifth day of fast, the Home Minister replied: "If he fasts why should I intervene. I am an ordinary mortal".
 
On issues about Acharya Balkrishna's nationality and a probe into Ramdev trust's assets, Chidambaram said, there will be another opportunity to answer these questions.