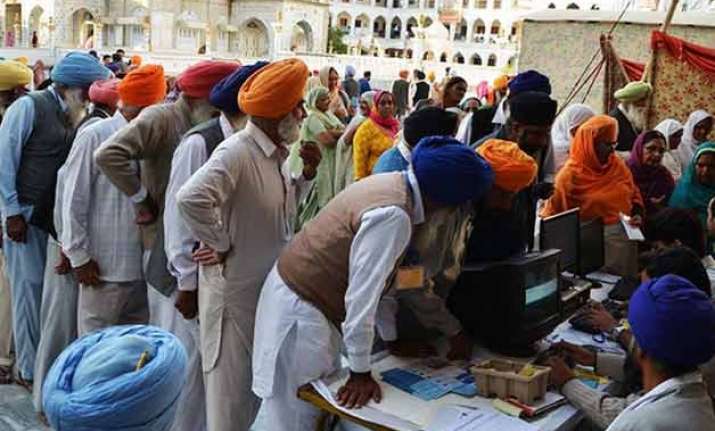 New Delhi: The NDA government at the Centre is preparing a bill to amend the Citizenship Act, 1955, to grant citizenship to migrants who have fled religious persecution in Pakistan, Bangladesh and Afghanistan.
There are nearly two lakhs Hindu and Sikh refugees from Pakistan, Bangladesh and Afghanistan presently living in India, according to a rough estimate.
The migrants include Hindus, Buddhists, Christians, Zoroastrians, Sikhs and Jains. The cut-off date proposed for granting citizenship to people fleeing religious persecution is December 31, 2014.
Sources said, there will be two routes for granting citizenship. One, citizenship by registration, that requires a minimum stay of seven years, and Two, citizenship by naturalisation, that requires a minimum stay of 12 years.
Many of the migrants do not have either valid documents or their visas have expired. Legally, they are considered illegal migrants and ineligible for citizenship, but the Centre is mulling over granting them citizenship too, considering BJP's oft-declared policy of India being "a natural home for persecuted Hindus".
During his Lok Sabha poll campaign, Prime Minister Narendra Modi had promised to grant citizenship to all those persecuted on grounds of religion in neighbouring countries.
There have been several top-level meetings involving officials of Home, Law and External Affairs ministries, and the amendment bill is being given final touches.
Thousands of persecuted Hindu and Sikh refugees from Pakistan are living in about 400 settlements in Jodhpur, Jaisalmer, Bikaner and Jaipur, while Hindu refugees from Bangladesh are living in West Bengal and Assam. Sikh migrants from Pakistan and Afghanistan are living in Delhi, Haryana, Punjab and Chandigarh.
In the last one year, the BJP-led government has given citizenship to around 4,300 Hindus and Sikhs from Pakistan and Afghanistan, according to sources. The previous UPA government had granted citizenship to only 1,023 migrants during its entire 10-year tenure.
Since the Modi government came to to power in May last year, nearly 19,000 refugees have been given long-term visas in Madhya Pradesh. Around 11,000 long-term visas were given in Rajasthan and another 4,000 in Gujarat, official sources said.
In April, the home ministry had unveiled an online system for submission of applications for long-term visas.
The decision has been taken to address the hardship being faced by the refugees who come to India with the intention to settle permanently.