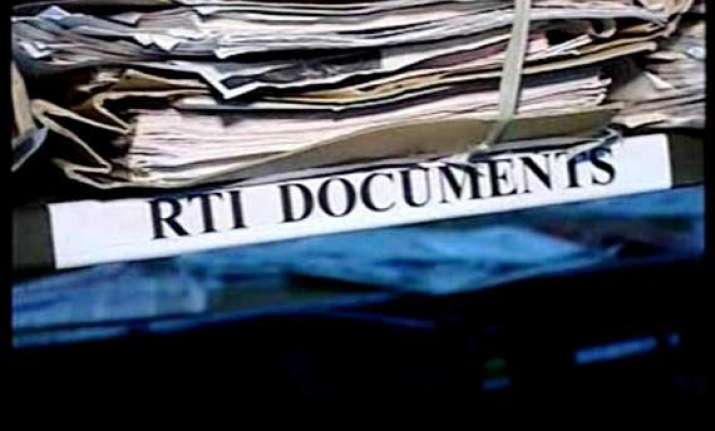 New Delhi: The Centre has announced that it would provide financial aid to states to set up facilities for online filing of applications under the Right to Information (RTI) Act and others initiatives aimed at simplification and promotion of the transparency law.
A fund of up to Rs three lakh for celebration of RTI Week (October 5-12) and Rs four lakh for innovative awareness generation programme through street plays, folk troupes etc has been earmarked by the Department of Personnel and Training (DoPT).
An amount of Rs four lakh per year has been earmarked for the states to set up helpline for answering queries of the general public regarding the RTI Act in their respective regional language.
"Funds would be granted to Administrative Training Institutes (ATIs) based on their respective proposal subject to a maximum ceiling of Rs 4 lakh per annum in the first year which would include rental charges for a telephone line, computer system for data storage, salary for the person manning the helpline and stationery, etc.
 "The grants for the subsequent years would be restricted to Rs 2 lakh per annum. Such helplines could be set up in collaboration with NGOs working in the field of RTI," the DoPT said in its detailed guidelines for the grant.  
The DoPT has also decided to give grant to states for simplifying the process of filing of RTI applications through an online system.
"The facility of filing RTI applications and appeals online through RTI online web portal has been launched and is being implemented in all the ministries or departments of Government of India situated in New Delhi.
"The same facility can be extended to the state government offices by sharing with them the software developed by NIC (Headquarters), New Delhi," it said.
The Administrative Training Institutes may play the role of catalyst in the implementation of the facility in the public authorities located in the state.  "Proposals in this regard are invited from ATIs and funds would be granted on the basis of such proposal," the DoPT said.
The state governments are also being encouraged to improve record management and suo motu disclosure of information related to their working through financial grants proposed by it.
Besides, Rs 5 lakh (per case basis) will be given to states for carrying out field-based research on RTI and Rs 1 lakh for organising workshops and seminars on promotion of the transparency law.
The RTI Act, 2005, empowers the citizen to seek time bound response from a government department on governance matters.