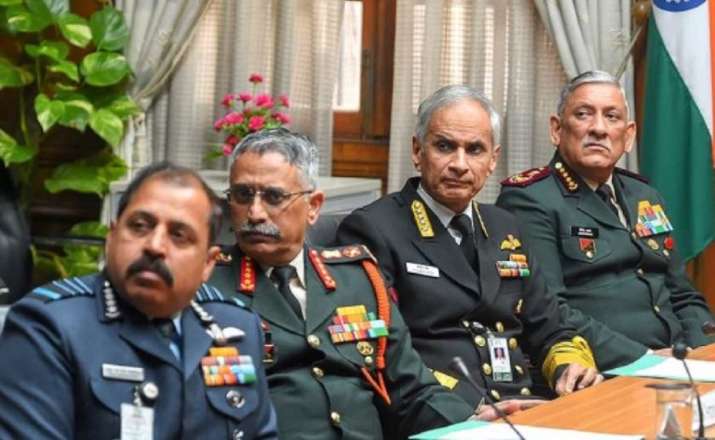 The Chief of Defence Staff General Bipin Rawat on Friday addressed a press conference. He was accompanied by the three serving military chiefs -- Chief of the Indian Army General MM Naravane, Navy Chief Amiral Karambir Singh, and IAF chief RKS Bhadauria. This is for the first time when the Chief of Defence Staff, a post created by the government to integrate the three wings of the armed forces, addressed the media, in the presence of the three service chiefs. 
HIGHLIGHTS:
No problems in dealing with the issue of Coronavirus. The first patient in the Army is cured and the jawan is back on duty. Army so far has had only 14 cases of which 5 have been cured and they have returned to work: Army Chief General Manoj M Naravane 
The Navy on its part will have its warships deployed in formations in coastal areas in the evening on May 3. Navy warships would also be lit up and their choppers would be used for showering petals on hospitals: Chief of Defence Staff General Bipin Rawat
During the India Air Force's flypast, the aircraft will also be showering flower petals at some places: Chief of Defence Staff General Bipin Rawat
The Army on its part will conduct mountain band displays along some of the COVID hospitals in almost every district of our country. The armed forces will also lay wreathe at the police memorial on May 3 in support of our police forces: Chief of Defence Staff General Bipin Rawat
There are some special activities that the nation will get to witness. Air Force to conduct flypast from Srinagar to Trivandrum & another one starting from Dibrugarh in Assam to Kutch in Gujarat. It'll include both transport & fighter aircraft: Chief of Defence Staff Gen Bipin Rawat
On behalf of armed forces, we want to thank all COVID-19 warriors. Doctors, nurses, sanitation workers, police, home guards, delivery boys and media which has been reaching out with the message of government on how to carry on with lives in difficult times: CDS General Bipin Rawat
Earlier on Thursday, Defence Minister Rajnath Singh held a meeting with the top military brass of the country to take stock of the overall preparedness of the armed forces in dealing with the coronavirus pandemic. CDS Bipin Rawat along with the three service chiefs was present in the meeting. Along with them, Defence Secretary Ajay Kumar, Defence Research and Development Organization (DRDO) chief G Satheesh Reddy and other senior officials of the Ministry of Defence were also in attendance.
WATCH VIDEO