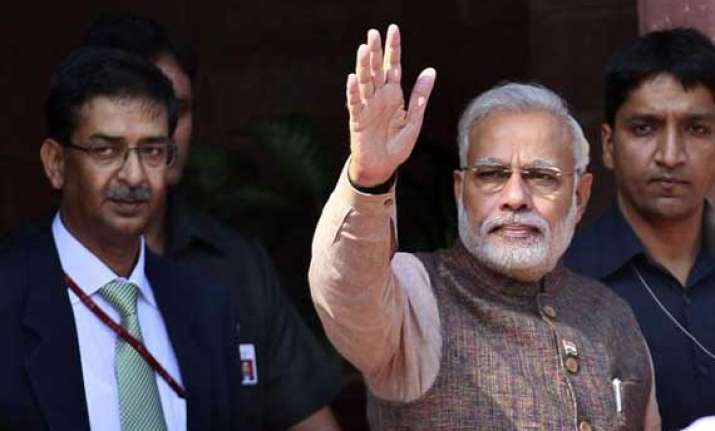 New Delhi: Prime Minister Narendra Modi is yet to name a number two in his Cabinet to handle exigencies in his absence since he will be away from the country for the next five days.
Meanwhile, a BJP announcement said Modi is the new leader of the reconstituted BJP Parliamentary Party in both Houses of Parliament.
Home Minister Rajnath Singh will be the deputy leader of the party in the Lok Sabha and Finance Minister Arun Jaitley in the Rajya Sabha.
It may be recalled that Modi was elected as the leader of the parliamentary parties of the BJP as well as the NDA on May 20. Besides the prime minister, the CCPA consists of Rajnath Singh, Sushma Swaraj, Arun Jaitley, Venkaiah Naidu, Nitin Gadkari, Ravi Shankar Prasad (all from BJP), Ram Vilas Paswan (LJP), Ashok Gajapathi Raju (TDP), Anant Geete (Shiv Sena) and Harsimrat Kaur Badal (Akali Dal).
In the pecking order, Rajnath Singh is number two on the list of council of ministers, according to the Cabinet Secretariat's website. He was the first to take oath after Modi on May 26 and sits next to the prime minister — to Modi's right — in Cabinet meetings.
Singh is on all the six new Cabinet committees, his name appearing after Modi in five of these groups. He heads the sixth, which is the CCPA.  
On the other hand, Jaitley as Minister for Finance and Defence, is seen by some leaders as the virtual number two because of his proximity to Modi.
The newly-constituted BJP Parliamentary Party Executive Committee, which was announced on Saturday, has Parliamentary Affairs Minister M Venkaiah Naidu as the government's Chief Whip in Parliament.
Ministers of State for Parliamentary Affairs Santosh Gangwar and Prakash Javadekar will be the government's deputy Chief Whips in the Lok Sabha (LS) and the Rajya Sabha (RS) respectively.
LS member from Rajasthan Arjun Ram Meghwal will be the party's Chief Whip in the Lok Sabha while Rajya Sabha member from Punjab Avinash Rai Khanna will be the new party Chief Whip in the Upper House.
P C Mohan from Karnataka is the new treasurer of BJP Parliamentary Party. Karnataka's Suresh Angadi has been named in the list of 13 whips in the Lok Sabha.