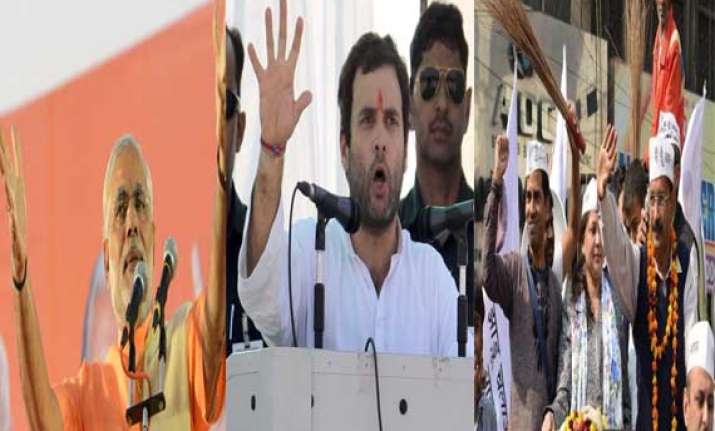 New Delhi: Campaigning in the bitterly fought marathon elections for the 16th Lok Sabha spread over five weeks drew to a close today as top leaders sought to muster a final show of strength in the ninth and concluding phase for 41 seats in three states that included Varanasi where Narendra Modi and Arvind Kejriwal are in the fray.
The campaign marked by attacks and counter-attacks by leaders across the political spectrum and use of derogatory language sometimes through the 9 phases ended at 6 PM for 18 seats in Uttar Pradesh, 17 in West Bengal and six in Bihar.
Voting will take place on Monday.
Counting of votes in the world's largest exercise in democracy in which voters have turned up in large numbers will be taken up on May 16 with opinion polls projecting BJP of which Narendra Modi is the Prime Ministerial candidate to be the single largest party.
The ninth phase will witness the mother of all contests in Varanasi involving Modi, the Gujarat Chief Minister, and Kejriwal, the Aam Aadmi Party (AAP) chief. Five-time MLA from UP Ajay Rai is the Congress candidate. Modi is also fighting from Vadodara in his home state of Gujarat.
Polling was by and large peaceful in the previous eight phases barring incidents of Maoist violence in Chattisgarh and Jharkand.
The country registered a record turnout of voters, surpassing the previous record in 1984, as 66.27 per cent voting was reported in 502 Lok Sabha seats where polling has been conducted in eight phases that began on April 7. The 2009 elections recorded a 57.94 per cent turnout.
Modi spearheaded the BJP challenge and criss-crossed the country addressing scores of rallies besides holding innovative 'chai par charcha' meetings and also 3D video campaign.
The Nehru-Gandhi family made a vigorous push for votes with Rahul, his mother and Congress President Sonia Gandhi, and his sister Priyanka Gandhi leading the party challenge.
Sonia and Rahul are contesting from the family pocketborough in Rae Bareli and Amethi in UP where the Congress Vice President is pitted against BJP's actor-turned-politician Smriti Irani and AAP's youth leader Kumar Vishwas.