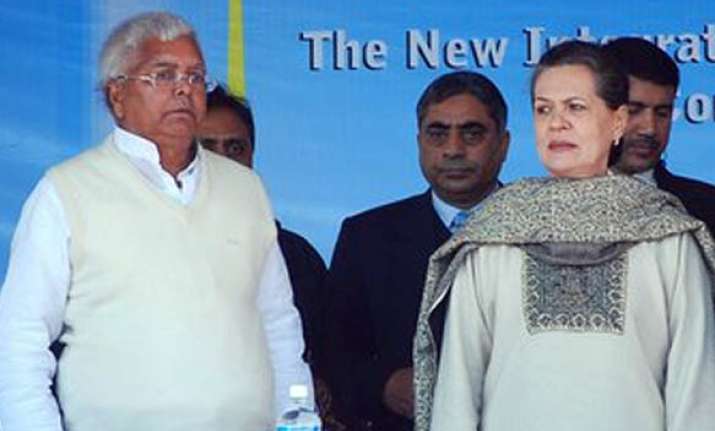 New Delhi, July 09: The Congress leadership has discoraged fresh attempts by Rashtriya Janata Dal leader Lalu Prasad to get back into the UPA government. There  is clear indication that the ruling party is not ready for any political realignment at the moment.

Lalu Prasad, who finds himself marginalised in Bihar, had met Congress President Sonia Gandhi and expressed his party's desire to upgrade relations with it, reports Economic Times.

However, Congress is clear that it cannot afford to have a tie-up with RJD, which continues to be seen as the force that stalled development in Bihar. Congress leaders have been maintaining that there will not be any change in the shape of UPA, which means, DMK will continue to be a part of UPA.

"The political imperatives favour the continuation of the alliance with DMK. Parties like RJD and Ajit Singh's RLD cannot raise our comfort level in the Rajya Sabha, where we need support for passing legislations," a Congress leader said.
 
He said the picture on the Cabinet rejig will become clear on Saturday. Pranab Mukherjee , who has left for Chennai, is expected to meet DMK chief M Karunanidhi on Saturday. Congress is confident that DMK will not make unreasonable demands on the Cabinet revamp.

Sources, who discounted the possibility of TR Baalu getting a Cabinet berth, said the party could seek a Cabinet berth for TKS Elangovan and a promotion for SS Palanimanikkam.

"Baalu will not be acceptable for the prime minister and the DMK leadership is aware of that," said a Congress leader.
 
Prime Minister Manmohan Singh , expected to undertake another round of consultations with Sonia Gandhi, will have to take a call on the continuation of SM Krishna in the External Affairs Minister.
If Krishna is removed from the External Affairs Ministry, it could lead to important changes in the Cabinet.

Sources said that Beni Prasad Verma and Srikant Jena will be elevated to the Cabinet rank and the party could accommodate a leader from Chhattisgarh.
The state is currently unrepresented in the Union Council of Ministers.