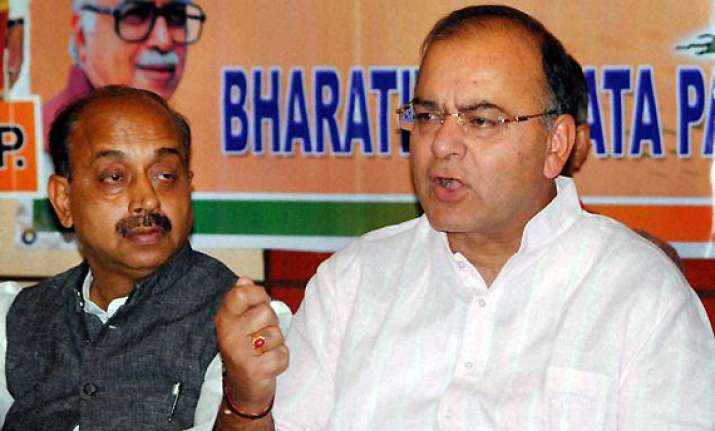 Chandigarh, Jan 13: Accusing the Congress of following a divisive agenda, the BJP today said that the party is facing a leadership crisis.

"At the national level in over seven years, the UPA government has nothing much to offer...there is a leadership crisis...decision making is not at its place...Congress is following divisive agenda," Leader of opposition in Rajya Sabha Arun Jaitley told reporters here.

The allegations of corruption are unprecedented in the UPA regime, he said, adding that the leadership in the Congress had lost its credibility.

The Congress will pay a huge price for its divisive agenda in the ensuing Assembly polls in the five states, he said.

"In Uttar Pradesh, the Congress is trying to implement a divisive (quota within quota) agenda for which the society will have to pay a lot," he said.

He said that the BJP was openly opposing the divisive agenda of Congress, whereas the SP and BSP were not coming in open against it.

"The policy of sub-quota by Congress is for its vested interests," he said, adding that the BJP would not allow the Congress to implement its divisive agenda. 

On the issue of Batla house encounter in Delhi, he said that it was an excellent performance of intelligence which broke the backbone of Indian Mujhaedeen. 

However, the Congress is double tounged on the issue like many other issues, he said referring to the stand of Home Minister P Chidambaram and Congress General Secretary Digvijay Singh on the three-year old encounter.

"The strategy of the Congress is UPA Chairperson (Sonia Gandhi) will keep quiet and party's general secretary (Digvijay Singh) will do questioning on important issues which hurts the country," he said.

On the issue of visit by controversial writer Salman Rushdie, he said that the BJP was not opposed to his entry in the country.

He also lashed out at the functioning of the CBI and said that it had lost its credibility.

On the issue of ensuing polls in Punjab, he said the party will start campaigning after the withdrawal procedure is over.

He said that the BJP's experience with its ally SAD in the last five years was satisfying.

"The SAD and BJP supplement each other with SAD having base in rural pockets and BJP in urban areas," he said.  He said that the alliance between BJP and SAD was above political issue and its a social alliance.

On factionalism in the party, he said no rebel is in the fray from where BJP candidates are contesting. BJP is contesting 23 seats in Punjab.

When asked that giving ticket to Navjot Kaur, wife of party MP from Amritsar Navjot Singh Sidhu, does not amount to promoting family fiefdom, he said Sidhu is an asset to the party and he will campaign in all the 117 constituencies of Punjab.