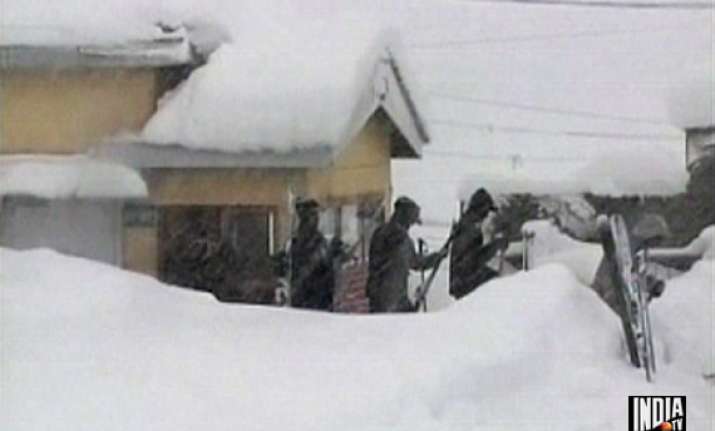 Srinagar, Jan 24: A BSF officer was killed while six other security personnel went missing after being hit by an avalanche near the LoC in Kupwara district today. 

Sub-Inspector Narendra Kumar died while five armymen and a BSF constable were missing after the avalanche struck this morning, a BSF spokesman said, adding Kumar's body has been recovered.

"A snow avalanche struck Furkian top in Kupwara at 7.20 AM. Five armymen and two BSF jawans were hit by the avalanche," Defence Spokesman Lt Colonel J S Brar said. 

He said the joint team of Army and BSF were clearing snow between their camp and an outpost when the avalanche occurred.

"Rescue teams from local camp and Gulmarg have been rushed to the spot to trace the missing soldiers," he said.
 
Snow and Avalanche Study Establishment (SASE) has declared higher reaches of Kashmir Valley, especially areas falling close to the Line of Control, as avalanche prone in view of the heavy snowfall in the first fortnight of this month.

Meanwhile, the  cold wave in Kashmir was unabated today with the mercury plunging by a further four degrees and settling at minus 13.9 degrees Celsius in the famous Gulmarg skiing resort.

Gulmarg recorded a low of minus 13.9 degrees Celsius, a MeT official said here today.

Kargil town also recorded the season's lowest minimum of minus 23 degrees Celsius, he said.

Leh town, which recorded the previous low of minus 22.2 degrees Celsius this season yesterday, continued to freeze with a minimum temperature of minus 20.6 degrees Celsius, he said.

Elsewhere in the Valley, the cold wave intensified as Pahalgam witnessed a seven-degree drop in minimum temperature to settle at minus 14.4 degrees Celsius. 

In Qazigund, the gateway town to Kashmir, the mercury slipped by three degrees to minus 11.8 degrees Celsius followed by Kokernag resort at minus 8.1 degrees Celsius.

The minimum temperature in Srinagar city, the summer capital of the state, remained almost unchanged at minus 4.3 degrees Celsius.