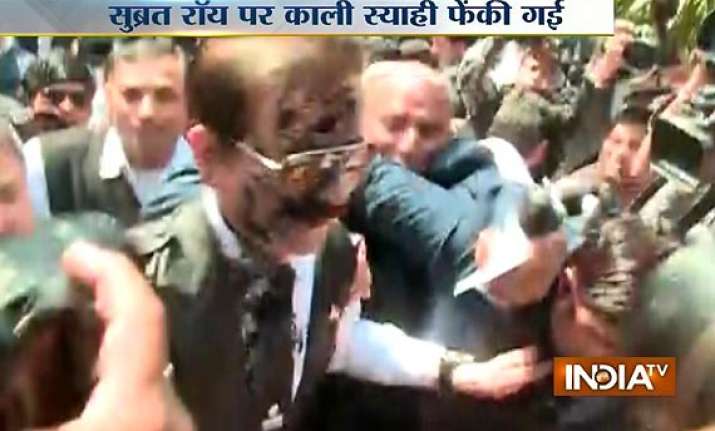 New Delhi: Sahara Chief Subrata Roy had to face a double humiliation - black ink was thrown at him by a looney ex-lawyer from Gwalior, and the apex court, after giving him a tongue lashing, sent him to Tihar jail till March 11 alongwith two of his directors.
Roy even offered to sell off his properties to pay the depositors, but the apex court was not convinced.
The apex court expressed unhappiness over the Sahara group's proposal on refund of investors' money as it had not come with any concrete proposal before the court.
Apart from Roy, the bench also ordered that the group's other two directors Ravi Shankar Dubey and Ashok Roy Choudhary be taken into custody letting the woman director, Vandana Bhargava free.
Roy, who was wearing his trade mark waist coat and black tie with Sahara logo, was produced before the apex court amidst chaotic scenes when a man claiming himself to be an investor threw ink on the face of Sahara Chief.
"We are not happy with the proposal. No concrete proposal has come up so far. We are not accepting this proposal. There is no bank guarantee. All of them except Vandana Bhargava will be in custody in Delhi," a bench of justices K S Radhakrishnan and J S Khehar said.
The bench clarified that it was not an order on contempt.
Sahara Chief's two sons, Sushanto Roy and Seemanto Roy were also present in the court during the hearing.