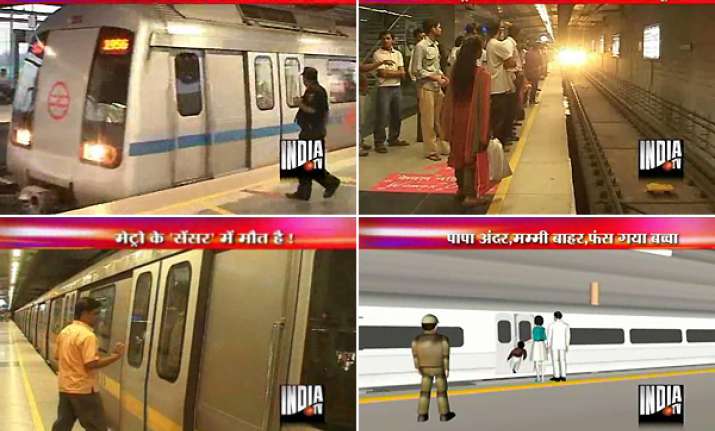 New Delhi, Jan 29: Aditya, a four-year-old boy had a close shave on Saturday as he was trapped between the doors of the last coach of a Delhi Metro train at the crowded Rajiv Chowk (Connaught Place) metro station, while his mother lost balance and fell on to the tracks.

Aditya was pulled away by two security guards in the nick of time. The train's door sensors clearly failed to detect the boy.

On Saturday, Rajesh Seth, his wife Neema and son Aditya were for the metro to Vaishali on their wayhome to Indirapuram after an outing.

Seth said the three of them tried to board the train at 11:03 am and managed to reach the last coach.

"There was a lot of rush and when we tried to board the train, my son's foot got trapped between the closing gates. My wife, who was holding Aditya, lost her balance and fell on the tracks when the train started to move," said Rajesh.

Two securitymen rescued him at the last moment.

Rajesh says but for two security guards, his wife and son would have been in trouble. "One guard saved my son by pulling him out and, in the process, got injured. The other saved my wife," he said. Aditya complained of a swelling on his foot while his mother received minor scratches, Rajesh added.

Delhi Metro denied this version, saying the guards were injured while trying to stop the family from boarding the train.

 "The family was trying to board the Metro. Since the doors were about to close they were stopped by the security guard," said a DMRC spokesperson.

"When the security guard tried to catch the child, he lost balance and fell on the tracks injuring himself."

The two guards were identified as Hemant Kumar and Rajesh. Hemant reportedly fractured his knee cap in the incident and was treated at Ram Manohar Lohia Hospital.

A case of negligence has been registered at the Raja Garden police station, additional DCP (crime) Sanjay Bhatia said.

An eyewitness, who refused to be identified, said the family had separated while waiting for the train, leading to confusion. While Seth boarded the train, mother and child were left to chase the train and the boy fell on the tracks, the eyewitness said.