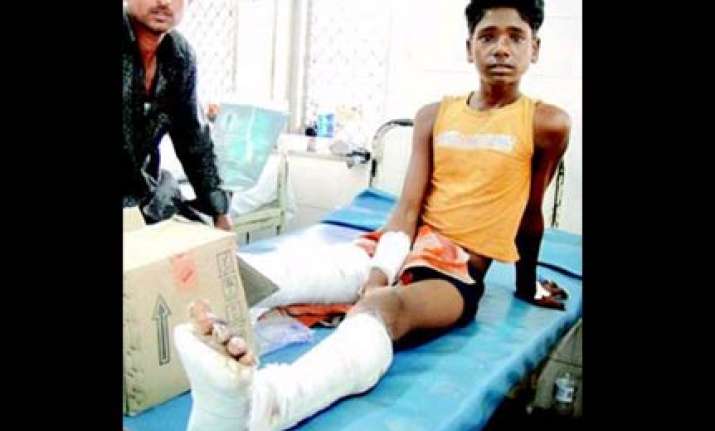 Mumbai : Arvind Rajbhar, a 16-year-old boy from Uttar Pradesh who had come to Mumbai in search of a job, was travelling ticketless on a local train when he spotted a ticket checker. Arvind jumped off the running train when confronted by the ticket checker. He fractured both his legs and  will remain incapacitated for a month, reports Mumbai Mirror. On Sunday, Arvind Rajbhar and three of his village friends left Thakurli near Mumbai to look for a job.  
"I've heard Mumbai makes people rich," the boy said. However, instead of heading towards Mumbai, the group boarded a train in the opposite direction by mistake.  
Between Thakurli and Kalyan stations, a ticket checker asked them for tickets, which they didn't have. "He told us we would have to pay Rs 150 each as fine. As we did not have any money, he said we would have to go to jail," said Rajbhar. Rajbhar panicked and ran to the door. What was he thinking when he jumped off?  
"My parents are poor farmers and I have four siblings. They sent me to Mumbai so I could send them money, not to get arrested. I did the best thing I could think of to avoid arrest," he said. The next thing he remembers is intense pain, being helped up by police and being escorted to Sion Hospital.  
Rajbhar has multiple fractures on both legs and severe wounds on his right hand. He may even need a surgery and may have to spend another month at the hospital.
Rajbhar and his friends from Jalalpur village in Uttar Pradesh moved to Thakurli four days ago.  
They were working on a strip of land between Dombivli and Thakurli farmed by a native of their village. "But we got bored and decided to run away from the farm. We thought we will get another job anywhere in this city," he said.
Railway police said they were investigating the incident. "The checker was only doing his job. The child jumped out in panic. We have already recorded his statement and are investigating the case to see if there was any foul play," said A R Jagtap, senior inspector at Kalyan GRP.