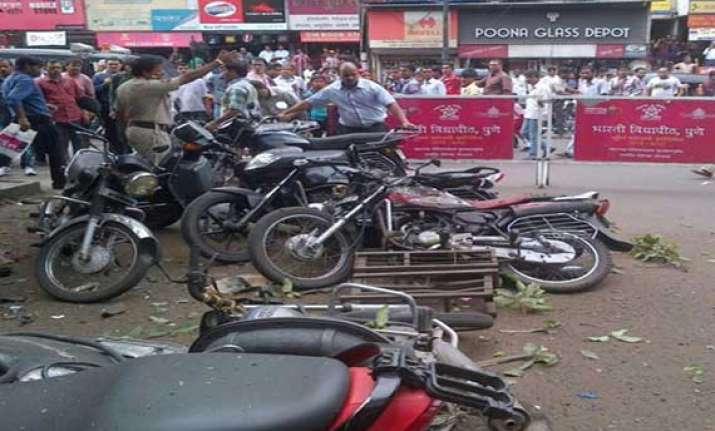 Pune: A low-intensity blast triggered by an IED planted in a bike parked in front of a police station in the heart of the city today left four persons injured, one of them a Constable, even as authorities did not rule out the possibility of involvement of a terror group in the incident.
Though the injuries caused were minor and the blast damaged only two 2-wheelers in the parking lot of Faraskhana police station, it created panic in the area and brought back memories of earlier bomb explosions in the city for which home -grown terror outfit Indian Mujahideen was blamed.  
Maharashtra Home Minister R R Patil, who visited the blast site this evening, said Anti-Terrorism Squad (ATS) will handle the probe. While initially the police said three people, including a Constable attached to Faraskhana police station, suffered minor injures, Patil put the number at four.  
Patil, who was accompanied by Director General of Police Sanjeev Dayal and other top officials, said the State Government would provide all necessary manpower as well as competent officers to the ATS to track down the culprits.  He appealed to citizens of Pune to maintain calm and cooperate with police, assuring them that the Government was committed to ensuring full security to life and property.  
Patil said CCTV cameras will be installed in the areas coming under jurisdiction of Police Zone 1 and 2.  "We are examining all possibilities and ruling out none," Police Commissioner Satish Mathur, who visited the spot with officials from ATS, told reporters when asked about a possible terror angle to the blast.
However, the Centre declined to term it as a terror act, saying it was only a "minor" explosion. "It was a minor blast. Why do you think it could be a terror act?" Union Home Secretary Anil Goswami told reporters in Delhi.  
The incident happened close to the famous Dagdusheth Halwai Ganesh Temple in the crowded Budhwar Peth area in the city centre. The temple, which attracts a large number of devotees, especially during the annual Ganesh festival, was target of an abortive bomb attack in 2010.  
Mathur said the motorbike used to plant the device had been stolen from a police personnel some time ago. "Remnants of the device, ball bearings and nails, which were strewn around were recovered and sent for forensic examination."
The Commissioner said security has been stepped up across Pune and vehicles are being checked at all exit and entry points. Two of the wounded civilians were identified as Mayur Salunkhe and Deepak Singh