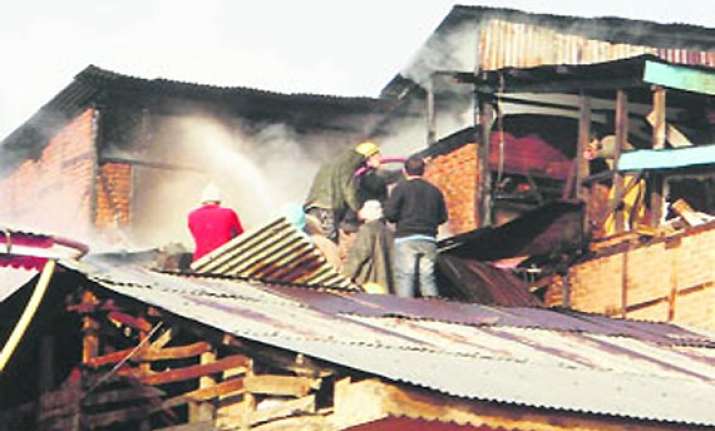 Jammu, May 31: Blazing temperatures in Jammu have sparked off a rash of fire mishaps this summer and authorities are blaming it all on the rising mercury which has more than once breached the 45 degrees Celsius mark in recent days. 
"There is a direct relation between rising temperatures and the number of fire incidents," deputy director of fire services in Jammu, CK Peshin, told PTI.  
This year, for the month of May, they had so far received 434 fire calls till yesterday morning, Peshkin said. That represents a rise of over 35 per cent as compared to the corresponding period last year, when the tally was 316 cases.  
A maximum of 33 fire incidents were reported on May 22, when the mercury touched 45.1 degrees, followed by 32 earlier on May 10. Thirty-one fire mishaps were registered on May 21.  
And the hottest day of the month - May 24 - when the mercury zoomed to 45.8 degrees, witnessed 20 fire incidents.  
Among the effects of the jump in the number of fire incidents is an unprecedented rise of more than 200 per cent in property damaged.
Losses due to fire stand at Rs 493.43 lakh for the month of May this year, while property worth Rs 160.33 lakh was damaged in the same period last year.  "In the hot weather, with the bushes around the city drying up, there is a chance that even a single spark might ignite a fire.
"There has been a slight dip in the temperature in the last few days and showers have also helped, otherwise there it was very likely that the figure might have crossed the 500 mark," a fire official said.
Peshin, meanwhile, asked people to remain alert.  "People should not be careless. Most fire incidents during summer happen due to short circuits. People must use electricity judiciously, overloading should be avoided," he said.