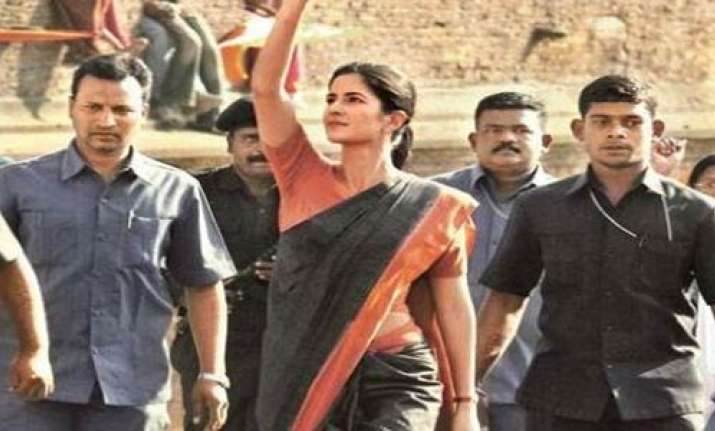 Mumbai, July 25: The Bharatiya Janata Party, desperately in search of issues and faces, is reportedly eyeing Bollywood hottie Katrina Kaif as its crowd puller for the Brihanmumbai Municipal corporation and UP Assembly elections, Mid-Day tabloid reported.  

Katrina Kaif had recently made a 'half-Indian' comment about Congress leader Rahul Gandhi, and after a stern remark from the ruling party, had to withdraw her comment.

According to MidDay, Raj K Purohit, the city chief of BJP, has said that the party would try its best to get Katrina for drumming up support in the campaign preceding the BMC and UP elections.

"We welcome her and will try to get her to be part of our rallies and meetings. What she said is not wrong. Instead, she is the first person to say this in public. We fully support her," said Purohit.

Says BJP UP state chief Surya Pratap Shahi: "Whatever Katrina said was not incorrect. She has just echoed the sentiments of crores of Hindustanis. Also, she never retracted her statement. What she said was that if her statement has hurt anyone, she was sorry."

Shahi says: "Rahul doesn't even know what a samosa is. Which Indian wouldn't know that? How can such a person be the face of the nation?"

If Katrina refuses to campaign for BJP, the party has a plan B ready: "We will use her 'Half-Indian' statement and her pictures which will also make an impact" ,said a party insider.

A spokesperson for Katrina said, "She doesn't want to comment on anything related to this."

BJP already has the likes of Shatrughan Sinha, Vinod Khanna, Smriti Irani, Dharmendra, Hema Malini, and Navjot Singh Sidhu to campaign, but the addition of Katrina may give a big boost.

This was what Katrina had told in an interview to Times Of India last week: "Am I supposed to be ashamed that I am half-Asian, I mean, no! Rahul Gandhi is half-Indian, half-Italian. So? I am very proud of what I am and I just don't understand the confusion as if I'm trying to hide the fact that my mother's a British. Why would I?"
The comment was withdrawn by Katrina the very next day after a strong Congress rebuttal.