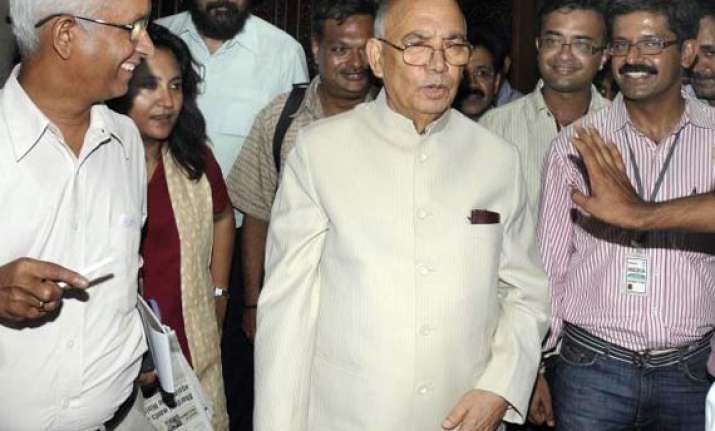 Bangalore, Dec 8: In a fresh bout of confrontation with the Governor, ruling BJP in Karnataka today decided to take its campaign against H R Bhardwaj to the Rashtrapathi Bhavan to press for his recall for refusing to accept the state government's recommendation on new Lokayukta chief.

BJP's decision taken at an emergent meeting of its legislature party came as the standoff over the Lokayukta issue persisted with the Governor insisting that the D V Sadananda government recommend a fresh name in place of former Kerala High Court chief justice S R Bannurmath.

Briefing reporters, Water Resources Minister Basavaraj Bommai said a delegation of BJP legislators would meet Patil and present a memorandum seeking Bhardwaj's immediate recall, the date for which would be decided later.

Bhardwaj, who has been having uneasy relations with the BJP government since becoming the Governor, has asked the Gowda ministry to suggest another name for appointment as Lokayukta following reports that Justice Bannurmath was alloted a site reserved for civic amenities in the Judicial Layout.

Insisting that the Judge must be spotless, Bhardwaj had even taunted the government earlier that it could 'Google search' (for a right candidate).

BJP sources said the meeting adopted a resolution demanding that the Governor appoint Bannurmath as Lokayukta or quit. It felt the govenment had followed the procedures while recommending the name of Bannurmath and flayed the Governor for bringing pressure to suggest another name.

BJP's decision came a day after Gowda indirectly blamed Bhardwaj for the delay in the appointment of the Lokayukta and maintained the government has followed precedents.

"The ball is in the court of the Governor", Gowda had told the assembly yesterday even as Bhardwaj had claimed the Chief Minister was "responding well to appoint a spotless judge as the new Lokayukta."

The Lokayukta post is vacant since Justice V Shivaraj Patil quit on September 19 over a land controversy within a month of assuming charge as the anti-corruption ombudsman following the retirement of Justice Santosh Hegde.

Karnataka is the second BJP-ruled state after Gujarat to be locked in a row with the Governor on the issue of appointment of the Lokayukta.

Bhardwawj, a former Union Law Minister, and Gowda's predecesor B S Yeddyurappa also had a running battle on various issues with the BJP central team taking a delegation to Patil in May last seeking his recall for recommending imposition of central rule in the state.

The Governor had also given the sanction for prosecution of Yeddyurappa on a complaint by a city-based lawyer over alleged land scams which ultimately landed him in jail.