Follow us on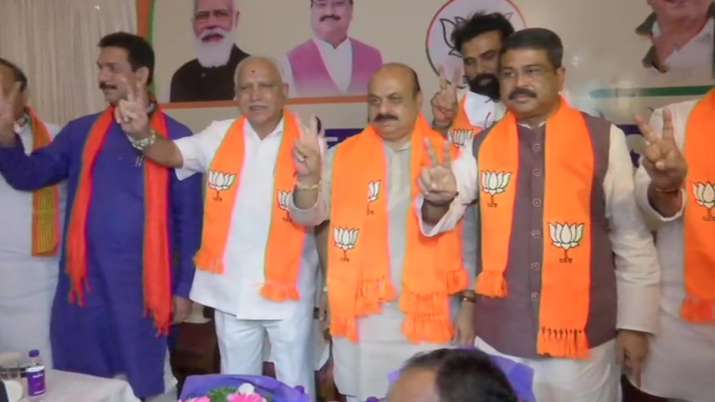 The BJP on Tuesday named Basavaraj Bommai as new Karnataka Chief Minister. Bommai, who is considered to be a confidante of outgoing Chief Minister BS Yediyurappa, was the home minister of the state.  Bommai, who joined the BJP in 2008, belongs to the Sadara Lingayat community. His father SR Bommai had also served as Karnataka CM in 1980s.
Addressing the media just after being named as Karnataka CM, Bommai said, "It is a big responsibility in the given situation. I will strive to work for the welfare of the poor. It will be pro-people and pro-poor people governance."
Bommai will take oath as the CM on Wednesday. "Governor Thaawarchand Gehlot has invited me to form the government. I will take oath at 11 AM on July 28," Bommai said.
ALSO READ: Who is Basavaraj Bommai
Minutes after Bommai took over as Karnataka CM, his predecessor, Yediyurappa, threw his support behind his close confidante and tweeted, "I'm confident Basavaraj Bommai will lead Karnataka in the path of development." 
According to reports, there will be three deputy CMs in Bommai Cabinet. R Ashok, who is a prominent Vokkaliga community face, Sriramulu who represents the ST community and a Dalit face Govind Karjol. 
ALSO READ: Basavaraj Bommai to be latest in father-son duo club to occupy CM's chair
Talking about the decision, Karnataka BJP leader K Sudhakar said, "All MLAs took this unanimous decision. He commands respect, not just from the party even from outside the party. Basavaraj S Bommai will probably take oath tomorrow."
Union Ministers Dharmendra Pradhan and G Kishan Reddy, who have been appointed as observers by the Bharatiya Janata Party (BJP) to monitor the selection of the new Karnataka Chief Minister, held meetings with various party leaders before meeting party MLAs at a private hotel in Bengaluru on Tuesday evening.  
BS Yediyurappa had on Monday announced his decision to step down as Karnataka CM ending days of speculation. Yediyurappa chose to announce his resignation at an event to mark organised to mark the completion of two years of the BJP government in the state. 
Earlier, religious leaders of the community and a few who even belonged to the opposition Congress, had spoken in favour of his continuation in the post.
Amid resentment against him and his son, the buzz about his exit grew after he visited Delhi earlier this month and met top BJP leaders including Prime Minister Narendra Modi.
ALSO READ: BS Yediyurappa resigns as Karnataka Chief Minister, breaks down while addressing BJP workers