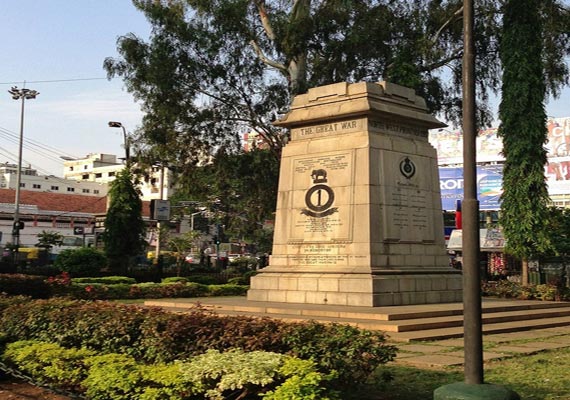 Bangalore, July 28: The National War Memorial, dedicated to soldiers who laid down their lives for the nation, has failed to meet the fifth deadline even as it was expected to be ready by the 14th Kargil Vijay Diwas. 
Spread over 7.5 acres, the memorial is being constructed adjacent to Indira Gandhi Musical Fountain Park in the heart of Bangalore and boasts of several unique features.
Almost all work has been completed, except installation of a monolithic 60-feet stone pillar (veeragallu) on which the names of those who died for the country are being engraved. 
Karnataka Home Minister K J George had informed the Legislative Council last week that the memorial would be the second of its kind after 'Amar Jawan Jyoti' in New Delhi and that work is slated for completion in October.  "One stone we have ordered that is about 60 feet high. I think by October they (an Ahmedabad-based agency) have promised to deliver it," he said.
The Bangalore Development Authority (BDA) had finalised Nabros Transport Private Limited of Ahmedabad to bring the 450-tonne monolithic stone pillar from a village near Devanahalli near Bangalore to the NWM.  
Busts of heroes from Karnataka ranging from,among others, Field Marshal K M Cariappa to Maj Sandeep Unnikrishnan, killed in the operation in the Mumbai terror attack, will be displayed inside the motivation hall.  The inauguration of NWM was scheduled on Republic Day in 2011, but was postponed to Independence Day.
It was again deferred for the third time to Vijay Diwas Day. In 2012, the delay in finalising the contractor had postponed the inauguration of NWM once again.
India marked the 14th anniversary of "Operation Vijay" on Friday.