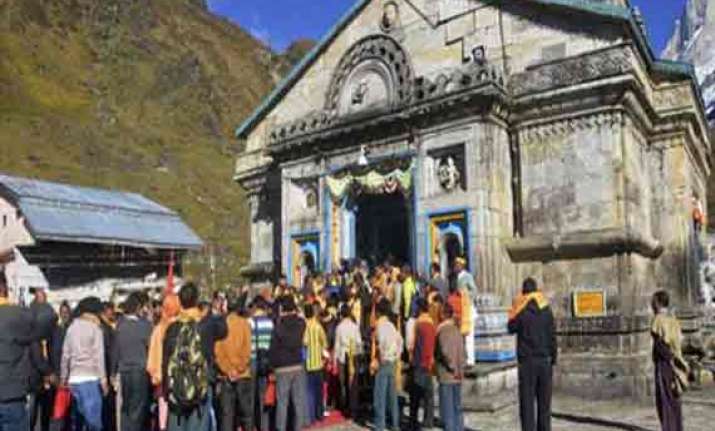 Dehradun: A day after yatra to Kedarnath was suspended, the pilgrimage to another major Himalayan shrine, Badrinath, in Uttarakhand was stalled on Thursday in view of the weatherman's prediction of heavy rains in the area.
Yatra to Badrinath has been stalled considering safety of the pilgrims in view of the MeT department warning of heavy showers from July 16 to July 18, Chamoli District Magistrate SA Murugesan said.
The pilgrims bound for the famed temple have been asked not to go beyond Joshimath till further orders, he said.
The yatra will remain suspended till tomorrow when the warning gets over, the District Magistrate said. However, the step is a precautionary measure considering safety of the pilgrims, he said.
It is not raining too heavily as of now and the situation is far from alarming, although rivers in the district are flowing two to three metres below the danger mark, Joshimath SDM Anup Nautiyal said.
Alaknanda is flowing two metres below the danger mark at 957.42 metres in Chamoli, while its principal tributary Nandakini is flowing at 868.55 metres whereas the danger mark is at 871.50 metres, Nautiyal said.
Pindar river is also flowing 769.50 metres while the danger mark is at 733 metres.
However, the Badrinath highway is blocked since last evening at Lambagad and Border Roads Organisation and personnel are busy clearing the road, he said.
Meanwhile, Uttarkashi District Magistrate R Ravishankar said the yatra to two other famous shrines in Gangotri and Yamunotri is continuing but in a restricted manner from Gangotri to Gaumukh, the point where the Ganga originates.
"As there is a cap on the number of people visiting Gaumukh in a day we shall allow the next lot of pilgrims to leave Gangotri for Gaumukh only after the previous lot returns," Ravishankar said.
Medium to heavy rains in different parts of the state in the last 24 hours triggered landslides killing a woman in Tehri district and blocking roads leading to the chardham at a number of places.
Heavy boulders falling from a hillside in the wake of rains hit a woman in Dogi area of Tehri district killing her on the spot last evening, Uttarakhand Emergency Operation Centre said today.
In the past 24 hours, Rudraprayag received 61 mm of rain, followed by Uttarkashi which received 51 mm of showers and Dharchula 28 mm of showers.
Rains have brought mud and slush along with pebbles and boulders on to the roads going to the famous four Himalayan shrines in Uttarakhand.
The Rishikesh-Kedarnath highway  is blocked at Fata, Banswara and Guptkashi whereas the Rishikesh badrinath highway is blocked at Patalganga,  Pagalnala, Lambagad and Kameda.
Similarly the Gangotri highway is blocked at Raturiseda, Malla, Laldhang, Netala and Henlkugad while the Yamunotri highway