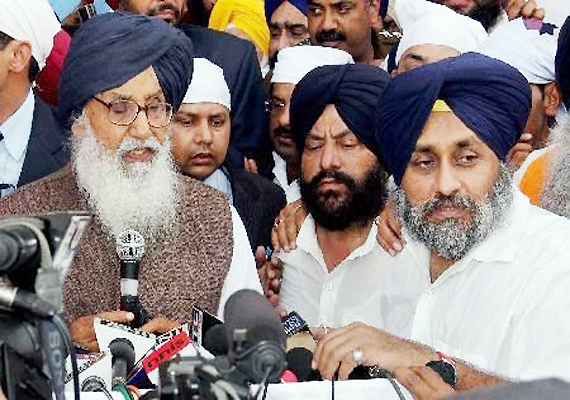 Chandigarh, Mar 13: Parkash Singh Badal will take oath as Chief Minister of Punjab tomorrow for a record fifth time at the head of an 18-member cabinet, including his son Sukhbir who will continue as his deputy for the second successive term of the SAD-BJP alliance ministry.  

The state, with a 117-member assembly, can have under the Constitution, an 18-member cabinet, including the Chief Minister.

85-year-old Badal senior had headed two full five-year terms from 1997 and 2007. His other terms were in 1977-1980 and 1970-71.

Only one woman Bibi Jagir Kaur, former President of SGPC, has been included in the ministry though eight women of the alliance (SAD-six, BJP- two) were elected to the assembly.

All the seventeen ministers to be sworn in with Parkash Singh Badal will be of cabinet rank, including Sukhbir who has been named Deputy Chief Minister, an official announcement said here this evening.

Fourteen of them belong to Shiromani Akali Dal and the remaining four to its alliance partner BJP.

The Badal family has four members in the cabinet. Besides the father and the son duo, others are Adesh Partap Singh Kairon (son-in-law of Badal senior) and Bikram Singh Majithia (brother-in-law of Sukhbir).

Badal has reposed faith in former ministers as only four first timer's find place in the new cabinet. They are Bhagat Chuni Lal and Anil Joshi, both of BJP, and Surjit Singh Rakhra and Sharanjit Singh Dhillon, both of SAD. Rakhra had defeated Punjab Congress President Amarinder Singh's son Raninder.

Former Deputy Speaker of the Lok Sabha Charanjit Singh Atwal has been named as the Pro-Tem Speaker of the newly-constituted state assembly.

SAD created history in the 46 years history of Punjab by becoming the first party to retain power in alliance with BJP with an improved tally of 68 seats against 67 which the two parties had secured five years back.

BJP ended with a tally of 12 legislators as against 19 in the outgoing House.

Those to be sworn in tomorrow are:

Parkash Singh Badal (SAD, Lambi), Chief Minister, Sukhbir Singh Badal (SAD, Jalalabad), Deputy Chief Minister, Bhagat Chuni Lal (BJP, Jalandhar West), Sarwan Singh Phillaur (SAD, Kartarpur SC), Adesh Partap Kairon (SAD, Patti), Ajit Singh Kohar (SAD, Shahkot), Gulzar Singh Ranike (SAD, Attari SAD), Madan Mohan Mittal (BJP, Anandpur Sahab), Parminder Singh Dhindsa (SAD, Sunam), Janmeja Singh Sekhon (SAD, Maur), Tota Singh (SAD, Dharamkot), Jagir Kaur (SAD, Bholath), Surjit Kumar Jyani (BJP, Fazilka), Bikram Singh Majithia (SAD, Majitha), Sikander Singh Malooka (SAD, Rampura Phul) Anil Joshi (BJP, Amritsar North), Surjit Singh Rakhra (SAD, Samana) and Sharanjit Singh Dhillon (SAD, Sahnewal).