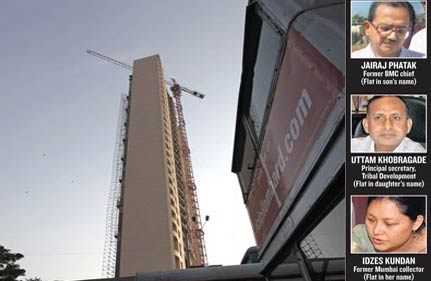 If the CBI is to be believed, every bureaucrat, through whom the files of Adarsh passed, was a beneficiary of the project, especially those from the Revenue and Urban Development Ministries.
Mumbai tabloid MiD DAY listed the bureaucrats who had in some way or the other played a role in the scam.
Idzes Kundan, former Mumbai Collector
(Flat in her name)
In 2009, Kundan wrote to the Revenue Ministry recommending her own self for being allotted a flat after Adarsh CHS asked for the ministry's approval in a letter for including three fresh names in the society. She also recommended the name of present Addl Chief Secretary (Home), Chandra Iyengar, to be included in society, subject to the MMRDA's clearance of the building's FSI.  
Despite calls and messages, Kundan did not respond.
Uttam Khobragade, former BEST GM and the incumbent Principal Secretary, Tribal Development
(Flat is in the name of daughter Devyani, an IFS officer)
Though Devyani was allotted a flat in the society, documents reveal that Khobragade had gone on to apply for another, in his own name this time. During his term, Adarsh CHS secured additional building rights from the adjacent BEST bus depot.
Khobragade hung up twice after MiD DAY called his cell phone. He also did not reply to our text messages.   
Ramanand Tiwari, State Information Commissioner
(Flat in the name of son Onkar)
Tiwari worked as Urban Development Secretary during his career in the state cadre. Incidentally, the Commission did not disclose his assets even after appeals by RTI activists.
He said he did not want to comment on the issue.
CS Sangitrao, former Secretary Transport dept
(Flat in the name of son Ranjit)
Sangitrao was suburban collector in 2001. He also held the post of secretary to former CM Vilasrao Deshmukh in his second term.
Despite several calls and messages, Sangitrao remained unavailable for comment.
Seema Vyas, Food and Drug Administration Commissioner
(Flat in her own name)
Seema is the wife of former Mumbai Collector Pradeep Vyas. On July 9, 2004, when Pradeep was the city collector, had accorded permissions to Adarsh Society.
Despite calls and messages, Seema did not respond.
PV Deshmukh, former Deputy Secretary, Urban Development
(Flat in his own name)
In a letter to the BMC Chief Engineer, Deshmukh claimed that Adarsh did get an NOC from the Union Ministry of Environment and Forests. But the Minister of Environment and Forests clarified last week that no such NOC was issued.
Deshmukh could not be reached.  
SV Joshi, Principal Secretary, state Urban Development Department
Joshi wrote a letter on Aug 19, 1999, to the Environment Ministry, claiming that members who would inhabit Adarsh Society are defence officers who deserved special consideration as they had dedicated their life to the country. The letter went on to say that some Adarsh members were still fighting in Kargil and surrounding areas. Joshi, then, requested for an NOC for the building from the ministry.
Joshi could not be contacted.
Subhash Lala, secretary to former CM V Deshmukh
Lala's name figured in some news reports for recommending two individuals for the allotment of flats. But it is not verified that he actually made the recommendations.
Lala could not be contacted.
Jairaj Phatak, former Municipal Commissioner
(Flat in the name of son Kanishka)
Phatak was the municipal commissioner when the BMC had approved the 31st floor and 10 extra apartments in the Adarsh Society building housing 103 allottees.  
Phatak said, "None of the committee members of the housing society are briefing on this. It is Kanyaialal Gidwani who would speak on this issue."
DK Shankaran, former Chief Secretary, and wife, Joyce, former addl chief secretary of Higher and Technical Education
(Flat in the name of son Sanjoy)
DK Shankaran also worked as principal revenue secretary. He said, "My son applied for a flat after we both retired from service. Besides, we both were nowhere concerned with the revenue department when the files of the society were doing the rounds. I don't think my son will give up the flat as it entails a lot of investment and we are a middle class family. Sanjoy had claimed in his application that his monthly income was Rs 16,750.
JM Abhyankar, former project director, Sarva Shiksha Abhiyaan (Flat in his name)
He did not respond to MiD DAY's calls and messages.
Saved by default:
There are other bureaucrats who would have been in the dock but were saved as their application for allotment of flats was rejected. Documents with Mid DAY reveal that the following had also applied for flats:  
Chandra Iyengar, state Additional Chief Secretary (Home)
"I don't have any idea about Adarsh and I have nothing to say on that," Iyengar said.
Arti Kant, former chief vigilance officer, Mumbai Port Trust (MbPT) RK Das, joint director, Environment and MSRDC Dyanesh Kirtikar, retired IAS officer
The Other Side
The state's top bureaucrat JP Dange, Chief Secretary said, "We are contemplating action and we will examine as to what step can be taken against these officials. Since the CBI will be investigating the matter, we will wait for the investigations to be complete and then decide the future course of action."