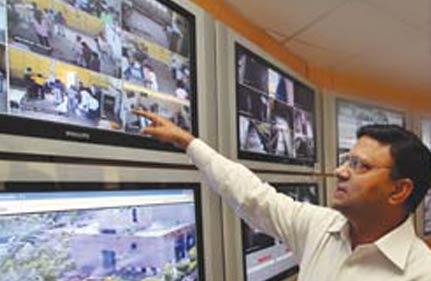 New Delhi, Nov 10  :  A change from old ways to a people-friendly policing, revamp of elite anti-terror wing Special Cell and a women-centric approach are high on the agenda of B K Gupta who took over as the new Delhi Police Commissioner today.
A performance based recognition and zero tolerance to corruption are also on the agenda of Gupta, a 1975-batch IPS officer, who replaced Y S Dadwal, who has now been transfered to Sashastra Seema Bal (SSB) as its Director General.
As he entered his new office, Gupta noted he was "not new to Delhi Police" and hugged Dadwal and congratulated him for the successful conduct of Commonwealth Games on the security front.
"May God bless you. All the best," he told Dadwal.
The former Tihar Jail Director General, Gupta was accorded a guard of honour on his arrival at the Police Headquarters and escorted to the Commissioner's office where Dadwal handed over charge.
Dadwal was then given a send-off by Gupta, who wished his predecessor "good luck".
Keep in line with tradition, senior officials tugged back the car of Dadwal as he left the headquarters.
Outlining his priorities, Gupta said the old style of policing should now give way to a "new culture" of policing in which public can approach police not only for matters related to crimes.
"We get more funds than earlier. There is a need for a new culture (of policing). Police should be friendly with public and they can approach police for anything," he told reporters after a brief meeting with top officials.
Sending a tough message to non-performers, he told officers that "performers will shine and non-performers will perish" under his regime.
Gupta has already has formulated parameters to assess SHO and one for Assistant Commissioners and Deputy Commissioners would be ready in a couple of days.
"There will be zero tolerance to complacency and illegal activities of my officers. If you are a performer then there is no limit for your term. But if somebody is found involved in illegal activities like land grabbing, they will be in the post for not more than ten days," he said.
For non-performers, Gupta said, he may give them "one or two chances" but after that they will be moved out of their current posting.
Another focus will be making police stations women friendly, he said noting that there will be more women personnel at police stations near Delhi University.
He also said he would revamp anti-terror wing Special Cell and Crime Branch, "my two passions".
Gupta said intelligence gathering is an important component in securing the national capital and he will make every efforts to ensure that the Special Cell is equipped to do so.
Likewise, he said, data collection is important for Crime Branch.
Gupta also commended the force for the traffic arrangements they made during the Commonwealth Games.
"The problem is that people tend to violate traffic rules. Officers will hit the roads. We will also use new technology," he said.
He also said he would revamp the beat patrolling system and mentioned the name of Kiran Bedi, the first woman IPS officer, for her contributions for making the tradition a hit.
"The best personnel will be deployed for beat patrolling. They will be made accountable. They will have to regularly interact with locals. They cannot shy away from what is happening in their area," he said.
He said all the SHOs, ACPs and DCPs have to submit a monthly self-appraisal form to Joint Commissioners who will evaluate their performance.
"We are not working in Mughal dynasty. We are not feudal lords including Commissioner. We are here to serve people," he added.
Earlier today, Dadwal was given a warm farewell where he said the force had successfully met various challenges.
Gupta, 58, a 1975-batch officer, was serving as Tihar Jail Director General and is credited with introducing various measures to improve life of the inmates in the jail.
Dadwal inspected a guard of honour where top officials including Special Commissioner, Joint Commissioners and Deputy Commissioners of the force were present. He was received by Special Commissioner of Police Ajay Chadha.
"We have kept the promises we had made in the last three years. We have met the challenges successfully," he said in his farewell speech. PTI