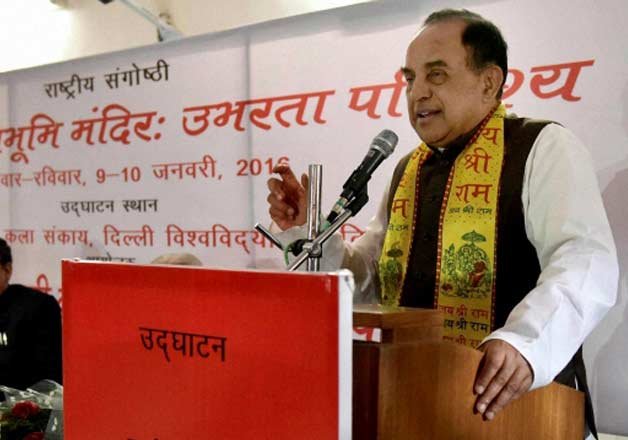 New Delhi: The Supreme Court today tagged the BJP leader Subramanian Swamy's plea along with the other pending civil appeals seeking re-construction of Ram Temple at the disputed site of Ayodhya. The apex court will hear the pleas challenging the verdict of the Lucknow bench of the Allahabad High Court.
The  apex court, however, declined to hear the petition filed by Dr. Swamy separately.
Rejecting Swamy's plea, a bench of Justices V Gopala Gowda and Arun Mishra said it cannot separately hear the petition seeking direction to allow construction of a Ram temple in Ayodhya at the site where the disputed structure was demolished in 1992 as a matter of fundamental right."
Swamy, in his petition, has contended that under the practices prevalent in Islamic countries, a mosque could be shifted to any other place for public purposes like constructing road etc., whereas a temple once constructed could not be touched.
He said that the disputed mosque in Ayodhya could be shifted to some place across Saryu river and the Lord Rama temple be constructed at the disputed site, contending that the report of the Archaeological Survey of India says that originally there was Lord Rama's temple at the disputed site.
Swamy sought the enforcement of his fundamental right and that of other people belonging to Hindu religion under Article 26 of the Constitution, to seek "the rebuilding and maintenance of the Lord Rama temple at the Ramjanambhoomi site at Ayodhya".
The Lucknow bench of the Allahabad High Court on September 30, 2010, ruled that the Babri Masjid in Ayodhya was built on a site after demolishing a temple on it way back in 1528, and that the spot where a makeshift temple to Ram Lulla was built after razing the mosque in 1992 was indeed where the Hindu god was born.
It ordered that the land around the disputed site would be divided into three parts -- one for Hindus, another for Muslims and the third for Nirmohi Akhara.
The apex court which was moved the Sunni Waqf Board, the Jamait-ul-Ulema-e-Hind, Ramlalla Virajman and Akhil Bharatiya Hindu Mahasabha and Nirmohi Akhara, amongst others, had on May 9, 2011, put on hold the operation of the high court verdict, describing it as a "strange and surprising" order which could not be allowed to remain.
"It is a rare judgment whose operation has to be stayed" and "entirely new dimension was given (to the case) by the high court (by its verdict)", said the then apex court bench of Justice Aftab Alam and Justice R.M. Lodha (both since retired).