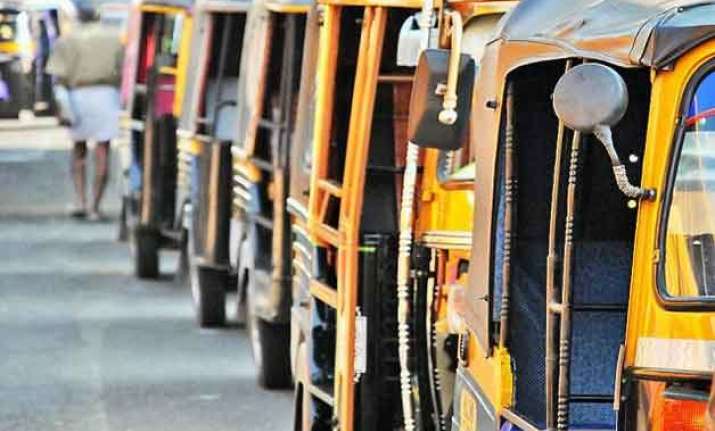 Kochi: Bitten by the art extravaganza, over 100 auto-rickshaws in Fort Kochi will exhibit Biennale messages on their vehicles.
"It is our Biennale", says one slogan, "Art is Life", says another. From this week, these messages from the second Kochi-Muziris Biennale will don exteriors of auto-rickshaws in Fort Kochi, the main venue of the 108-day festival.  
More than 100 auto-rickshaws queued up outside Aspinwall House, the main venue of the biennale, to get the stickers bearing the messages of art. The enthusiastic drivers of the vehicles said they were eager to support the biennale, which is helping them too.
"A lot of tourists from within India and abroad are coming to Kochi to see the biennale," according to Jarar K K, an auto-rickshaw driver. "Every day we take them to the biennale venues."
On Wednesday, Kochi Biennale Foundation co-founder and artist Riyas Komu led the drive to turn the auto-rickshaws in Fort Kochi into 'vehicles of art'.
"The rickshaw drivers of Fort Kochi are the local ambassadors of the biennale. Their spirited enthusiasm forms a huge support for the event," he said.
The auto-rickshaws are a popular mode of transport in Fort Kochi, a major tourist attraction, helping visitors get from one destination to another with ease.  
Ashkar Puthenparackal, an auto-rickshaw driver said, "The biennale is a pride of our town. We have to support it".
"It was the first time I was seeing an art event," noted Puthenparackal, who found time to see the event himself. "I was astounded by what I saw. I want to see more".