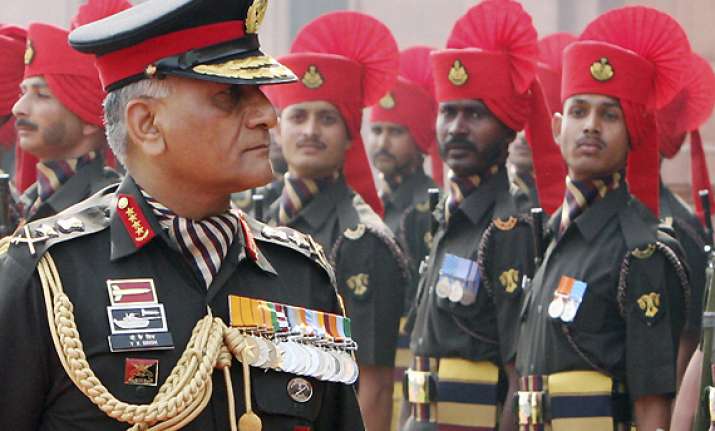 New Delhi, Mar 31: Coming out in support of Army Chief V K Singh, who is mired in controversies, a body of ex-servicemen today described him as a "whistleblower" out to clean the organisation.
"Whatever the Chief has done, he has done to the best of his ability for the organisation. He has no personal interest and we are all with him for whatever action he has taken," said Brigadier (retd) R K Singh Gulia, president of Indian Ex-Services League, one of the biggest organisations of former military personnel.
He was asked how the retired soldiers view the recent controversies on General Singh claiming that he received a bribe offer and writing to the Prime Minister over the state of preparedness of the Army.
"Whatever is the present controversy, things are coming out one by one. Let us not make it more murky now. Things are unfolding now.... But here is the man who is trying to clean the organisation," he said on the sidelines of a function to honour ex-servicemen.
On whether Singh was being "targeted" by his adversaries, Gulia said, "Normally any whistleblower becomes a target. From the day he took over the Army, his aim was to clean the system and health of the organisation, which he has been doing ruthlessly.
"As a result some of them who are not in the same frequency, they certainly would have gone astray and could have done that."
Defending the Army Chief for writing a letter to the Prime Minister Manmohan Singh, he said, "It is a regular feature.  Every chief writes and it is his duty to inform the government."
Terming the leakage of letter as an anti-national act, he said, "Whoever has leaked this is top secret letter, he must be taken to gallows."