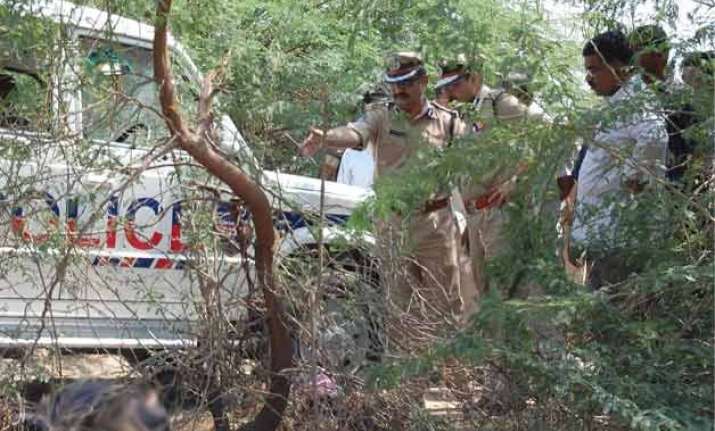 New Delhi: Two armed assailants who were shot dead in an encounter with Telangana Police on Saturday are suspected to be SIMI (Student Islamic Movement of India) activists who escaped from Khandwa Jail of Madhya Pradesh in October 2013.
MP police confirmed that a team of the anti-terrorist squad has already left for Telangana to confirm the details.
Interrogation report of the two suspected SIMI activists, Mohammed Aizazuddin and Mohammed Aslam and their chief Abu Faisal accessed by Times of India shows that they wanted to be the real face of home-grown terror, swearing allegiance to Taliban and Al-Qaeda and looking beyond ISI patronage enjoyed by Indian Mujahedeen. It is learnt that they the duo also had plans to kill Prime Minister Narendra Modi and they were also linked with the accused of the 9/11 attack.
ALSO READ: Policeman, two gangsters killed in Telangana gunfight
Aizazuddin and Aslam appeared to know the terrain of Nalgonda district very well, as they used dirt tracks and village roads while escaping the cops after shooting down the two policemen on April 2.
Virtually, they led the police into a trap, in an area of dense vegetation near a hillock, killing one constable and injuring a sub-inspector before they were shot dead.
They had opened fire on police while a police party was questioning them at Suryapet after deboarding them from a bus coming to Hyderabad from Vijayawada.
Police had launched massive hunt for the duo in the district. A police party reached Janakipur village in the early hours of Saturday after receiving information about the presence of the suspects.
As per the Telangana Police, both Aizazuddin and Aslam were involved in number of thefts, robbery and various other heinous crimes.