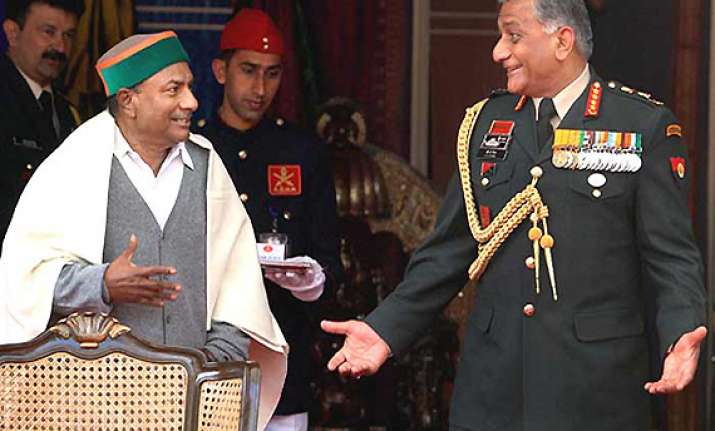 New Delhi, Feb 13: Both the Army Chief and the Government appear to have put the controversy over his age behind them with Defence Minister A K Antony today stating that he has full confidence in Gen V K Singh.  

The Army Chief's comments and remarks by the Defence Minister indicate that Gen Singh is unlikely to step down as was widely speculated.

"The government has confidence in the present chief and that was conveyed in the Supreme Court also. Everything is clear and we have confidence in him," Antony told reporters when asked if Gen Singh has offered to resign after the apex court verdict.

The Army Chief has said his honour has been redeemed by the Supreme Court verdict and laid to rest canards spread by vested interest. Gen Singh said he had stood for something right and appropriate in accordance with well laid down principles of justice.

The Supreme Court had held on February 10 that government's decision on Singh's date of birth as May 10, 1950, will apply to his service matters, forcing him to withdraw his plea contending that he was born a year later.

On the sidelines of an IDSA seminar, Antony expressed happiness at the end of the "unfortunate controversy".

"I am very happy that this very unfortunate controversy is over after the judgement of the Supreme Court. In the interest of national security, please forget and bury this unfortunate controversy.

"Whatever has happened has happened and is over now... I request my colleagues to close this chapter and let us all work together to strengthen national security. For us, national interest is supreme," Antony said.

After the Army chief withdrew his petition, there has been intense media speculation that he would quit. Gen Singh's tenure gets over on May 31 and the process to appoint his successor has been initiated by the Government.

The Army Chief will be in the UK tomorrow for a five-day official tour during which he will meet a number of British leaders to further bolster bilateral military ties.