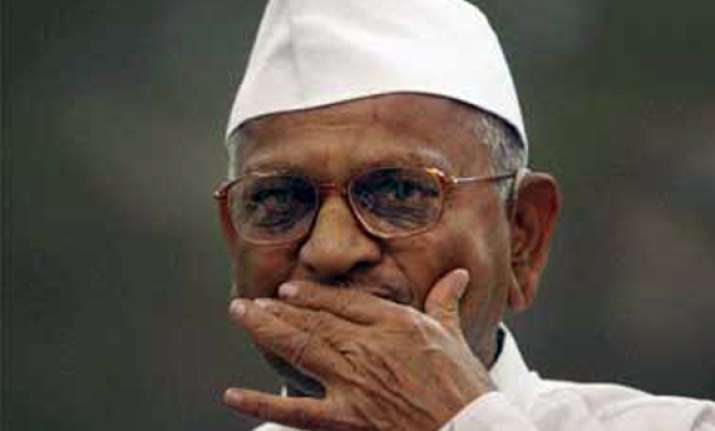 Mumbai/New Delhi, Oct 27: With his team under attack and facing questions of probity, Anna Hazare today said he will extend his vow of silence as verbal communication with people is leaving him "very weak".

His decision to continue his 'maun vrat' (vow of silence), which he started on October 16, will mean that he will not attend the Core Committee meeting in the national capital on Saturday which is expected to discuss controversies engulfing some of Team Anna's key members. 

Hazare's announcement came on a day when Congress leader Digvijay Singh stepped up his offensive against the Gandhian alleging that his anti-corruption agitation as well as that of yoga guru Ramdev and Sri Sri Ravisankar were part of an over-all plan of RSS-BJP to divert attention from right-wing terror.

"My health still does not permit me to give up my 'maun vrat'. There is still some swelling on my feet and the knee troubles me a lot," 74-year-old Hazare, who is in Ralegan Siddhi which is 200 km from Mumbai, said in his blog. 

"Maun vrat helps me heal my body from within and outside.  Verbal communication with people is an exertion for me leaving me very weak. Hence, keeping my physical condition in mind I have taken the decision to go on with maun vrat," he said. 

Team Anna has been on the backfoot with Kiran Bedi battling charges of overcharging her hosts by inflating travel bills and another team member Arvind Kejriwal being accused of depositing donations collected for Hazare agitation against corruption in a trust run by him.

Lawyer Prashant Bhushan also triggered a controversy by advocating plebiscite in Kashmir, evoking strong opposition from Hazare and other team members.

The Core Committee meeting comes on the heels of resignation of two prominent activists P V Rajagopal and Rajinder Singh, apparently unhappy over the movement moving towards party politics.

Renewing his attack on Team Anna, Singh said that while Ramdev and Hazare were plan A and B of the Sanghj-BJP, Sri Sri Ravishankar is Plan C and asked the latter to be "wary" of the two organizations".

Singh remarked on the microblogging site Twitter "Plan A, B and C are of Sangh/ BJP to divert the minds of the people from their involvement in terror activities to corruption."
Later talking to reporters, he said that Plan A of this over-all plan has been Baba Ramdev, B is Hazare and C is Sri Sri Ravishankar.

"I hold Sri Sri Ravi Shankarji in high esteem and have done a course in the Art of Living as Chief Minister of Madhya Pradesh in 2001. He should be wary of Sangh/BJP," Singh remarked.

Singh said that the anti-corruption movement was part of over-all plan of RSS-BJP combine to "divert" attention from the issue of "involvement of Sangh activists in terror activities in Malegaon, Modasa, Hyderabad, Ajmersharif and Samjhauta Express."

Reacting to the allegations, Sri Sri said, "people write so many things. I do not react to every comments. Everybody is entitled to their views."

Hitting back at Singh, BJP spokesperson Ravi Shankar Prasad said the Congress leader was attempting to "demonize" all those who are fighting against corruption. 

"I complement Digvijay Singh for his important plan of almost shameless way of demonising all those who are fighting against corruption. Good luck to him. The more he speaks, more the Congress will lose its credibility," Prasad said.