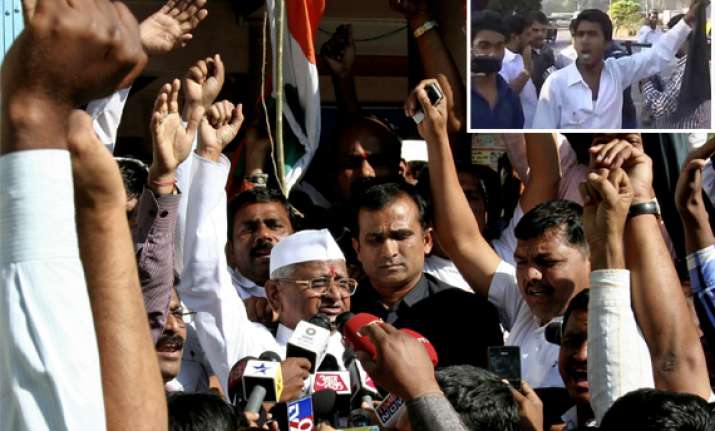 Mumbai, Dec 27: A handful of anti-Anna Hazare protesters today showed black flags to the anti-graft campaigner, who is set to begin his three-day fast here against the "weak" Lokpal Bill.

The convoy of Hazare, on way to Mahatma Gandhi's statue on Juhu beach, was briefly stopped by around 20 men carrying black flags and national tricolour and shouting "Anna Hazare murdabad", close to the guest house where the activist stayed overnight.

The identity of the protesters was not immediately known.

However, soon the convoy left for Juhu where Hazare paid respects at Mahatma Gandhi's statue, along with key members of his team Arvind Kejriwal, Kiran Bedi, Manish Sisodia and former Karnataka Lokayukta Santosh Hegde. Kejriwal and Bedi are scheduled to fast with Hazare.

Earlier, Hazare, looking a bit under the weather left the state government guest house at Bandra. He was suffering from cold and fever and was under medication. 

Hazare, after paying tributes to the father of the nation, sent for a mattress on which he sat in meditation in front of the Mahatma's statue.

He will later proceed to the MMRDA ground at Bandra-Kurla Complex.