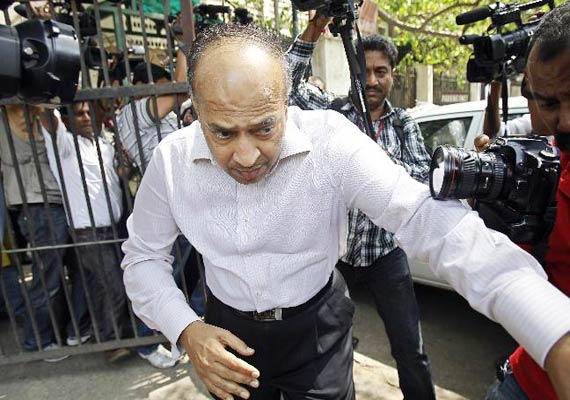 New Delhi, Apr 20: The CBI chargesheet on the 2G scam which was filed on April 2 clearly states how Anil Ambani's Anil Dhirubhai Ambani Group (ADAG) created and controlled Swan Telecom till October 2007, the time when Reliance Communications got GSM spectrum in circles where its 100% subsidiary Reliance Telecom Ltd didn't have it, reports Financial Express.
 
Once RCom got GSM spectrum in October 2007, ADAG officials transferred the management and control of Swan to Shahid Balwa and his partner Vinod Goenka.

The chargesheet says that investigation has revealed that ADAG officials created a kind of cross-holding structure whereby no one could be seen as the absolute owner of any company.

For instance, stake holdings were structured in Swan Telecom in a manner that only 9.9% equity was held by RTL and rest 90.1% was shown as holdings of Tiger Traders Pvt Ltd (later known as Tiger Trustees Pvt Ltd) although the entire firm was held by ADAG companies through funds raised from RTL.

The CBI has said the day-to-day affairs of Swan Telecom and Tiger Traders were managed by the three accused ADAG officials — Gautam Doshi, group MD, Surendra Pipara, senior vice-president and Hari Nair, company secretary — either directly or through other officers/consultants related to the ADAG.

ADAG officials also structured two other companies —Zebra Consultancy Pvt Ltd and Parrot Consultants Pvt Ltd. Till April, 2007, by when Swan Telecom applied for telecom licences, 50% shares of Zebra Consultancy and Parrot Consultants were purchased by Tiger Traders. Similarly, 50% of equity shares of Parrot Consultants and Tiger Traders were purchased by Zebra Consultancy. Also 50% of equity shares of Zebra Consultancy and Tiger Traders were purchased by Parrot Consultants.

These three companies, were, therefore, cross-holding each other in an inter-locking structure.

Investigation on Tiger Traders has disclosed that the source of funds to raise its equity and also to subscribe shares of other companies came from ADAG companies.

For instance, Rs 3 crore during January 2007 and Rs 95.51 crore during March 2007 utilised by Tiger Traders to subscribe to majority equity in Swan Telecom was arranged through group companies of ADAG.

Further, Rs 992 crore, which constituted bulk of the networth of Swan Telecom, was paid by RTL under the garb of subscribing to its preference shares.

The preference shares were purchased at an abnormally high premium of Rs 999 per share of a company which had no business history. Interestingly, the entire amount of Rs 992 crore was immediately returned by Swan Telecom to RCom showing an advance purchase order.

The CBI has said that ADAG's Pipara, Doshi and Nair prepared false minutes of board meetings of Swan Telecom and Tiger Traders showing appointment of one Ashok Wadhwa as director and his presence during the meetings.

Pipara also presided over board meetings of Swan Telecom when the crucial decisions regarding raising its equity, allotment of shares, applications to DoT were taken by Swan.

He also chaired the board meetings of Tiger Traders when the company subscribed and funds for the purpose were arranged.

"Doshi, Nair and Pipara of Reliance ADA Group on receipt of approval of allocation of dual technology spectrum to Reliance Communications knowingly did not withdraw their fraudulent application for UAS licence and in conspiracy with accused Balwa and Goenka transferred the management and control of Swan to them, thereby intentionally aiding and facilitating accused Balwa and Goenka to get UAS licences for Swan despite full knowledge that the company was ineligible on the date of application as it was in violation of clause 8 of the UASL guidelines dated 14.12.2005," the CBI chargesheet has said....