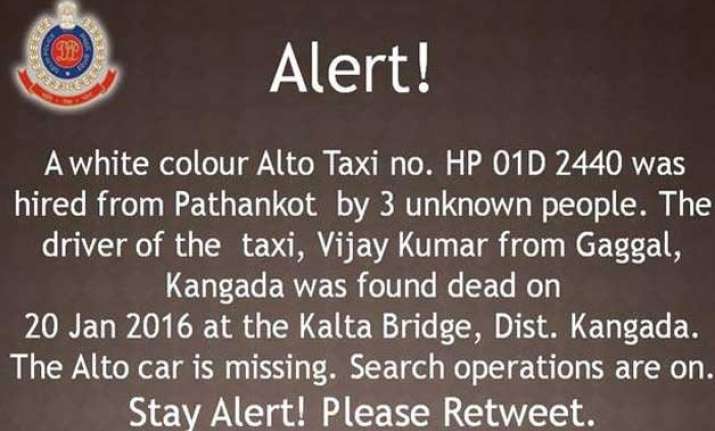 New Delhi: Delhi Police, today, issued an alert for a white Alto car taxi (HPO1 D 2440) which went missing after being hired by three unknown people from Pathankot. The driver of the taxi, Vijay Kumar, was found dead near a bridge on the Dharamshala-Pathankot Highway on Wed, 20th January.
The police officials investigating the mysterious death of the driver have ruled out any sort of terrorist connection in this unfortunate incident.
Sanjay Kumar, Director general of Police, said, "So far our investigations have not shown any terror link and efforts are underway to trace the culprits and recover the missing vehicle, apparently hijacked by three accused who had hired the taxi on January 14 evening from Gaggal."
However, keeping in view the Pathankot Air Force base attack where terrorists had first killed a cab driver and robbed his car before launching the strike, an alert has been issued by the Delhi Police.
"A white colour Alto taxi No. HP 01D 2440 was hired from Pathankot by three unknown people. The driver of the taxi, Vijay Kumar from Gaggal, Kangada was found dead on 20 Jan 2016 at the Kalta Bridge, District Kangada. The Alto car is missing. Search operations are on. Stay Alert!" read Delhi Police's official twitter handle.