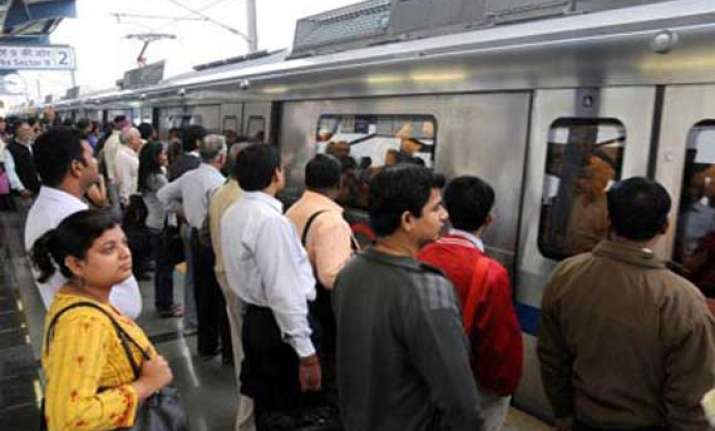 New Delhi, June 7 : The House Committee of Lok Sabha has asked Delhi Metro to devise a protocol for MPs, wherein staff would be appointed to receive them at stations, facilitate their movement, and assist them in boarding the trains, the India Express today quoted a government official as saying.
The "courtesies" may even include a separate ticket counter for MPs, sources said.
The report said, Delhi Metro Rail Corporation (DMRC) chief Mangu Singh was among those present at a meeting that the House Committee of the Lok Sabha had with Metro officials on May 17.
Sources present at the meeting said MPs cited the example of Air India's protocol while prodding the Metro chief to come up with a similar plan.
A DMRC spokesperson said, "MPs had queries regarding the timing and procedures adopted for the Airport Express line. We have forwarded the information to the urban development ministry for onward transmission to those concerned."
However, House Committee chairman J P Agarwal, a Delhi Congress leader, had a different take on this issue.  
"As laymen, we just wanted to know what are the facilities extended by the Metro and their guidelines, so that we can create awareness among members," Agarwal said. He said the committee had not given any directions for the formulation of a separate protocol for MPs. "It is our duty to see what problems are faced by MPs."
Earlier,  Air India drew up a "high quality handling" protocol for India's nearly 800 MPs.  
He said the committee had received complaints from several MPs saying they had been "harassed" at airports and on flights, including not being served their choice of meal, being denied a business class ticket, and not being provided assistance at counters.
Sources said several MPs were livid over what they claimed was "harassment" by Air India.
Former cricketer and BJP MP from Darbhanga Kirti Azad told the newspaper:  "Yes, I lost my cool. They (Air India and civil aviation ministry officials) were going on giving some answers... we do this... and we track MPs' movement... I asked them, 'What are you doing for your J class (business) passengers, forget MPs?'"
Civil Aviation Minister Ajit Singh sought to downplay the matter. "I don't think there is any additional cost attached to this (protocol for MPs). They do a lot of travelling, we are just saying that give them due respect and assistance."
However, Madhu Goud Yakshi, the Congress MP from Nizamabad, Andhra Pradesh, who was present at the meeting, said, "It is neither practical nor moral on the part of MPs to ask or demand for something like this."