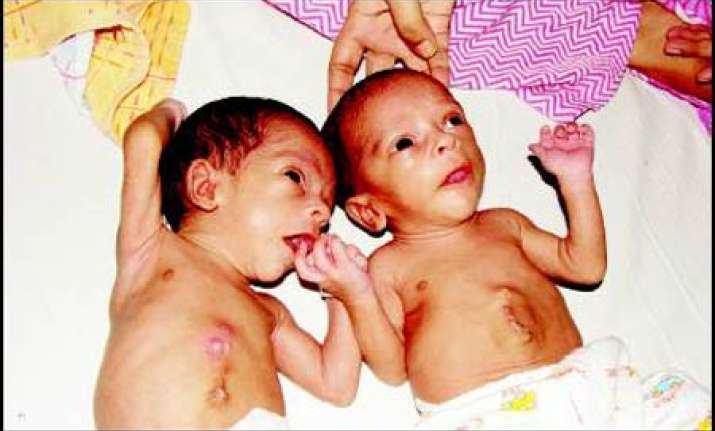 New Delhi, Nov 18: Doctors at the All India Institute of Medical Sciences, Delhi, have separated two-week-old conjoined twins in a rare surgery performed after a rehearsal. The twins were conjoined at the thorax and lower abdomen, reports Times of India.
Born to parents in Delhi's Najafgarh area, the babies were antenatally diagnosed at 24 weeks of gestation, doctors said.  
They were then referred to AIIMS by Maulana Azad Medical college. Doctors claimed this is the youngest successful planned separation of the thoraco-omphalophagus twins in the world with only 3.4 kg combined weight.
Two teams of 18 doctors led by Prof D K Gupta, head of department, peadiatric surgery at AIIMS and anaesthesiologist Prof M K Arora  successfully separated the conjoined twins.  
They were earlier joined lower chest bony cage, shared diaphragm and a common liver.  
Usually 75 per cent of such conjoined twins are either stillborn or die in the neonatal stage within three months of pregnancy. But because they were diagnosed in advance, plans for the rare surgery were put in place. 
Said Prof Gupta: "The surgery went off very smoothly. Post-operatively, one baby required ventilatory support for 48 hours. The feeding was resumed after 48 hours in one and 96 hours in the other one. Both babies have now completely recovered. Theyw ere discharged on day 10 after the surgery." 
Giving details of the surgery, Prof Gupta said: "We started with separating the chest bones, diaphragm and then the most important organ, the liver. We had to control bleeding and repair the liver after separating it. We then closed the abdomen.  
"Their bony deformity was corrected and the diaphragm was repaired. Another major challenge was anaesthesia. Because they were joined, administering on drug to one child meant it going into the other child too. So it required judicious monitoring of drugs being administered.  
"We had to be careful for cross over circulation. They had a shared liver. Usually because of sudden movements, livers could get torn after being stretched by both the babies. That's why we conducted the surgery early before any damaged has occured to the liver."