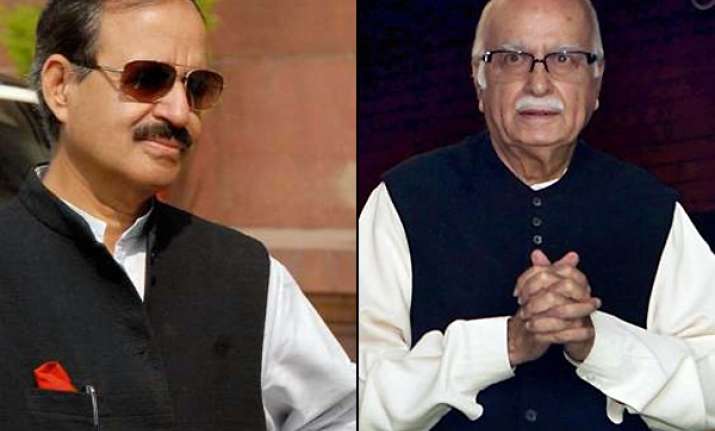 New Delhi, Oct 24: Congress today hit back at L K Advani for his remarks on UPA government's "pecking order", saying the BJP leader should first keep a tab on the rival claimants to the prime minister's post in his party.

"They should first see in their own backyard that how many claimants for the post of Prime Minister are surfacing in BJP even as the party does not have even a remote chance of coming to power. He better concentrate on his party matters than bothering who is number one or number two in Congress," party spokesperson Rashid Alvi told reporters here.

Taking a dig at Advani, senior Congress leader Digvijay Singh said, "May God give long life to Advani. As long as he remains a prime ministerial candidate (of BJP) and keeps on taking yatras, we have nothing to worry."

Their comments came hours after Advani targeted the Congress saying though there was always a question mark over who was the number one in the government, now by creating a "pecking order" a question mark has been raised over who was the number two.

Advani made the remarks in Sambalur in Orissa during his his anti-corruption Yatra.

He was reacting to reports that Prime Minister Manmohan Singh directed that either Finance Minister Pranab Mukherjee or Home Minister P Chidambaram should remain in Delhi to look after the day-to-day affairs of government dueing his three foreign visits next month.

Alvi also took a jibe at Advani for conflicting reports about his yatra covering Bangalore in the BJP-ruled Karnataka, where former Chief Minister B S Yeddyurappa is in judicial custody in an alleged land scam.

"On one hand Advani is taking anti-corruption rally, and on the other hand he says he had cautioned Yeddyurappa. Does it mean he knew what all the then Karnataka Chief Minister was involved in," the Congresss spokesperson said.