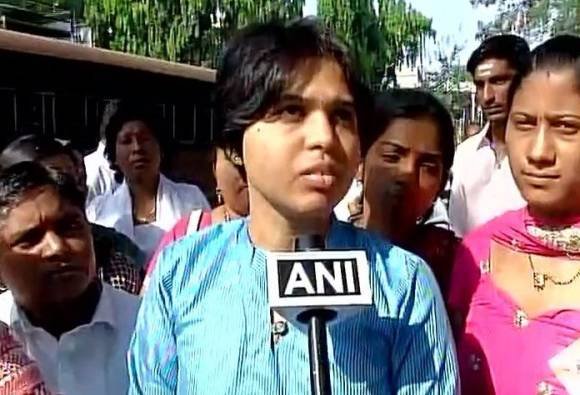 Nashik: The Maharashtra police are reported to have detained over 100 women including activist Trupti Desai of the Pune-based Bhumata Brigade for trying to defy a ban on the entry of women to the inner sanctorum of the Trimbakeshwar temple in Nashik. They were released later in the evening.
Trupti was detained by the Maharashtra police at Nandur Shingote near the Pune-Nashik border in Maharashtra, around 90 km from the Trimbakeshwar temple. The development comes on the heels of a similar attempt by the activist group to enter the inner sanctorum of the Shani Shingnapur temple, in defiance of the ban by temple authorities.
The move had created huge uproar with several women activists extending support to Trupti's campaign. The row had forced Maharashtra CM Devendra Fadnavis to clarify that he was in favour of women being allowed entry to the temple's inner sanctorum.  
"I condemn this action by the police. We've been detained for no reason. We were heading to Trimbakeshwar temple in a peaceful manner," Trupti said after the police stopped the group of women on the city's border.
Trupti also trained her guns at the BJP government and the Maharashtra CM seeking entry into the temple. "Where is the CM? Is this what 'acchhe din' meant? We want him to intervene and allow us entry into Trimbakeshwar temple," she said.
Meanwhile, the police have confirmed having detained about 100 women attempting to enter the Trimbakeshwar temple. "We have detained around 100 women considering law and order situation. They will be released after following due procedure," a police official said.
The resistance to entering the temple might have found support from several quarters. However, locals in the area have also opposed the entry of women entering the temple. This, they say, will defy age-old tradition and allowing them inside could lead to more protests.  
The locals say women are allowed access to the temple from outside and that allowing them inside will be a breakaway from their strongly held culture and tradition, which is something they cannot allow.
Meanwhile, Trupti and her supporters – around 300 in number – have shown stiff resistance to the police action. They have refused to enter the police van and continue to argue with the police seeking entry. Sloganeering and protests continue at the spot for now.