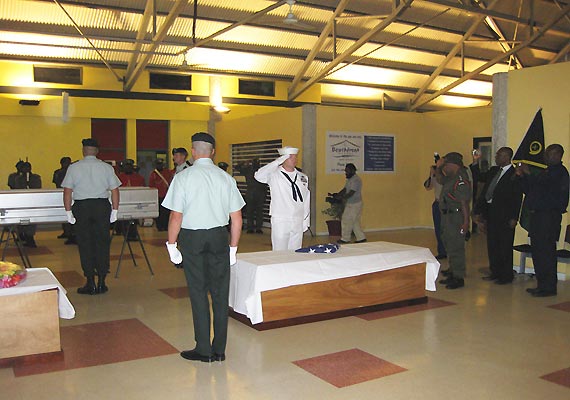 Agartala: A team of US Joint Prisoners (of War Missing) Action Accounting Commission (JPAC) today left for Dhalai district of Tripura on a special mission to search for mortal remains of those who died in a plane crash in World War-II.
The six-member team led by JPAC Director Jennifer Nasarenko would visit Birmonipara in Gandacherra subdivision where wreckage of US plane was found in January this year after a month-long search operation by Assam Rifles troops, official sources said today.
According to the sources, the team comprising JPAC operations director, LTC Timothy Duffy and JPAC official Owen O'Leary will stay at Ambassa, the district headquarters of Dhalai and hold meetings with the district administration about visiting Birmonipara, a remote tribal hamlet where the plane had reportedly crashed on May 17, 1946.
The JPAC team is accompanied by Under Secretary Arup Deb, they said, adding adequate security arrangements were made for US visiting team.
After making an on-spot study, the team will leave for Kolkata on September seven.
The US plane (C-47-B) had taken off from Rangoon airport in Myanmar with 11 "war criminals" and some other passengers for Calcutta on May 17, 1946 but had crashed in the dense forest, near Birmonipara village in Gandacherra sub-division in Dhalai district.
All the passengers and crews had reportedly died in the crash. Their bodies were buried at a cemetery built by local tribal people there.
The cemetery was located near Birmonipara village and the crash site and the propeller were found within three km of the cemetery, officials said.