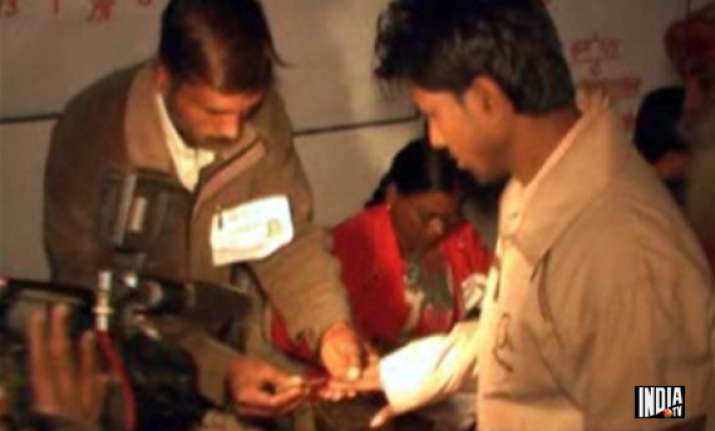 Lucknow, Feb 8: An impressive 62 to 64 per cent turnout was today registered in the first phase of Assembly elections in 55 seats in Uttar Pradesh where stakes are high for Mayawati's ruling BSP which is facing a tough challenge from Congress, BJP and SP.

After an initial lull due to rain, polling picked up quickly around midday as the skies cleared with 62-64 per cent of the 1.7 crore-strong electorate casting ballot on an incident-free day, Chief Electoral Officer Umesh Sinha said.

Today's polling was spread over 10 districts—Sitapur, Barabanki, Faizabad, Ambedkar Nagar, Bahraich, Shravasti, Balrampur, Gonda, Siddharth Nagar and Basti and held under tight security.

The first phase of elections for the 403-member assembly will decide the fate of two ministers, 31 MLAs and 15 former ministers. There are in all 796 men, 65 women and one eunuch in the fray.




Long queues of voters were seen at polling booths in several areas in late afternoon. "The biggest problem was that of rain in the initial hours, but later the response from the electorate was good," Sinha said.

Amidst complaints of EVM malfunctioning, a lower turnout was registered in Bahraich district, while in Sitapur people boycotted polling in Gularia village in Misrikh assembly seat to protest lack of development, officials said.

In Gonda, nearly 800 voters boycotted poll process at booth number 34 in Mehnaun assembly seat to protest shifting of the polling station three kilometres away from the village.

The remaining phases of polling will be held on February 11, 15, 19, 23, 28 and March 3. Counting of votes will take place on March 6.




In the 2007 Assembly polls, BSP had bagged 30 of the 55 seats where elections were held today and it would a tough challenge for the party, hit by controversies due to corruption cases, to retain the number.

Samajwadi Party is also under pressure to perform in these area to increase its tally from 18 seats last time.

As far as BJP, which has talked about "Ramrajya", is concerned despite Faizabad and Ayodhya falling in this phase, its performance had not been up to the mark in past elections.

Congress, which had won a meagre three seats in the last polls, is banking on charisma of Rahul Gandhi. In the outgoing House, BSP has a strength of 220 seats followed by SP with 89, BJP 48, Congress 20, RLD 10 and nine independents among others.




Heavy rain played a spoilsport in Basni Assembly seat in Siddharth Nagar with not a single vote being cast in the first two hours, officials said.

Polling also picked up in Faizabad in late afternoon where over 55 per cent electorate cast their ballot as compared to 30 per cent in the first four hours.

In Ayodhya, voting crossed the 50 per cent mark till 3 PM. Balrampur and Siddharth Nagar district witnessed a lower than average voting.

Today's polling would decide the future of cabinet minister Lalji Verma, minister of state Sangram Singh Verma, besides relatives of several MPs.

It would be a litmus test for Congress leaders, including Union Steel Minister Beni Prasad Verma and National Commission for Scheduled Caste Chairman P L Punia as both of them represent the areas where voting took place.

While Gonda MP Verma's prestige would be at stake not only in seven Assembly constituencies of his parliamentary area but also in Barabanki with his son Rakesh contesting from Dariyabad seat there.

In Delhi, Deputy Election Commissioner Alok Shukla said, "The polling in the first phase is at least 33 per cent higher than the overall turnout in the previous assembly polls in 2007, which recorded a total of 46.6 per cent turnout."

Shukla, who is incharge of elections in UP, said the polling percentage is showing a continuous increase in the past few elections after the launch of voter awareness campaigns by the EC.