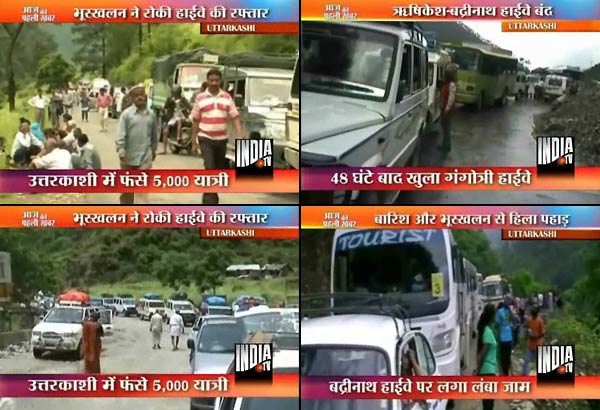 Uttarkashi, Jun 30 :  More than 5,000 tourists have been trapped while on way to Badrinath due to continuous rains and landslide at several places on the Rishikesh-Badrinath route, reports India TV reporter Inder Singh Bisht.
The Rishikesh-Badrinath route has been closed to vehicular traffic, which as a result has caused a 10 to 12 kilometre long traffic snarl.
Thousands of vehicles are trapped on the highway, as authorities promise that they are trying to remove obstructions caused by landslides.
Border Roads Organisation jawans are waiting for the rains to stop in order to clear the highway.  Several thousand pilgrims have been forced to stay  and consume  meagre food  and water on the road  due to bad weather.
BRO officials say, the highway is expected to open anytime on Thursday weather permitting.
Meanwhile, the Rishikesh-Gangotri highway was opened on Wednesday evening after remaining closed for nearly 48 hours due to rains and landslide. Thousands of people slept on the road enduring bad weather.

The Almora-Pithoragarh highway has also been closed due to rains, as state PWD staff have been employed to remove roadblocks caused by landslide.
PTI adds from Dehra Dun: Hundreds of pilgrims to three Himalayan shrines of Kedarnath, Gangotri and Yamunotri have been stranded following closure of roads due to landslides even as ten persons died in several rain-related incidents across Uttarakhand in the last fortnight.

Ten persons have so far died in various rain-related incidents like flashfloods, landslides and boulders during the past fortnight, officials today said.

Landslides triggered by heavy rains continued to hit several places, blocking vehicular traffic on various roads including national highways leading to the three shrines.

However, Rishikesh-Badrinath national highway, which was blocked after a glacier hit the road just two kms away from Badrinath shrine, has been reopened for vehicular traffic.

Rishikesh-Kedarnath national highway has also been blocked at Sirobagad due to intermittent landslides. Long queues of vehicles are seen on both sides of the road and efforts are on to clear the debris to reopen it for traffic.

The vehicular traffic on Rishikesh-Gangotri national highway between Dharasu and Nalupani could not be resumed on the fourth consecutive day today as landslides continued to hit the area.

Rishikesh-Yamunotri national highway was also closed at Feri in Uttarkashi district due to landslides. BRO personnel along with police personnel are trying to clear the debris and reopen the road for vehicular traffic.

Meanwhile, several areas of the hill state received moderate to heavy rains during the past 24 hours. Chamoli experienced 84.0 mm of rainfall followed by Nainital 64.6 mm, Rudraprayag 59.0 mm, Uttarkashi 55.0 mm, Lansedowne 54 mm, Rishikesh 50.0 mm and Dehra Dun 38.8 mm.

The Met office has predicted that several areas of the hill state will continue to receive rains for another day and some areas like Nainital, Almora and Champawat might receive rather heavy to heavy rains. PTI