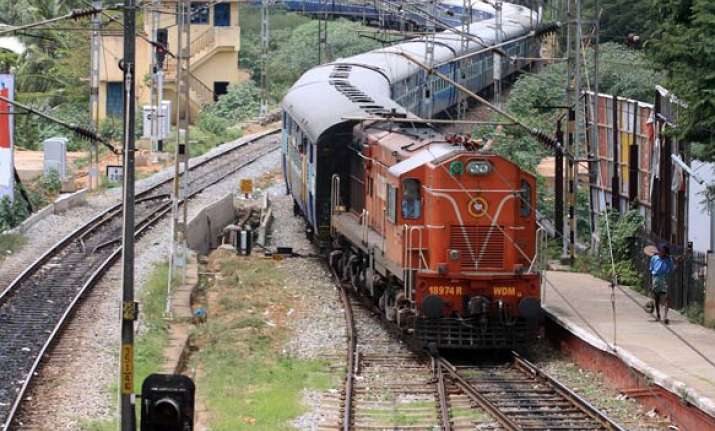 New Delhi, Feb 25: Railway Minister Mamata Banerjee has announced extension of 33 existing trains and introduction of 13 new passenger trains:
Following trains are proposed to be extended:
Chhindwara-Gwalior Express to Delhi (11101/11102)
Jhansi-Chhindwara Express to Delhi (11103/11104)
Udaipur-Gwalior Express to Khajuraho (12965/12966)
Solapur-Gadag Express to Hubli (11423/11424)
Jabalpur-Nagpur Express to Amravati (12159/12160)
Nizamuddin-Bapudham Motihari Express to Muzaffarpur (12211/12212)
Jammu Tawi-Sonpur Express to Muzaffarpur (12491/12492)
Lucknow-Allahabad Express to Vindhyachal (14209/14210)
Chandigarh-Jaipur Garib Rath Express to Ajmer (12983/12984)
Indore-Ajmer Express to Jaipur (19655/19656)
Lucknow-Saharanpur Express to Chandigarh (15011/15012)
Chennai Egmore-Nagore Express to Karaikal (16175/16176)
Visakhapatnam-Nizamabad Express to Nanded (18509/18510)
Sambalpur-Nizamabad Express to Nanded (18309/18310)
Mysore-Shimoga Town Express to Talguppa (16205/16206)
Valsad-Vadodara Express to Dahod (12929/12930)
Surat-Bhavnagar Express to Mahuva (19025.19026)
Sultanpur-Ajmer Express to Ahmedabad (19603/19604)
Ajmer-Kishanganj Express to New Jalpaiguri (19601/19602)
Mumbai-Allahabad Express to Faizabad via Jaunpur, Shahganj (12563/12564)
Yesvantapur-Mangalore Express to Karwar (16515/16516)
Saharanpur-Delhi to Farukh Nagar (14546/14545)
Lucknow-Bhopal Express to Pratapgarh (12183/12184)
Delhi-Shahjahanpur Passenger to Sitapur Cantt. (54075/54076)
Moradabad-Chandausi Passenger to Bareilly (54311/54312)
Hajipur-Phulwaria Passenger to Bathua Bazar (55221/55222)
Hajipur-Thawe Passenger to Kaptanganj (55007/55008)
Nagercoil-Thiruvanthapuram Passenger to Kochuvelli (56318/56317)
Hyderabad-Wadi Passenger to Gulbarga (57135/57136)
Hubli-Bijapur Passenger to Solapur (56909/56910)
Nagda-Kota Passenger to Ratlam (59803/59802)
Ambala-Una DEMU to Amb Andaura (74991/74992)
Ambala-Amritsar DEMU to Kurukshetra (74645/74646)
13 new passenger trains are proposed to be introduced :  
Delhi-Garhi Harsaru –Farukhnagar Passenger (daily)
Kendujhargarh-Bhubaneswr Fast Passenger (5 days a week)
Koraput – Bolangir – Sambalpur Passenger (daily)
Barkakhana-Dehri-on-Sone Passenger (daily)
Jodhpur-Hissar Fast Passenger (daily)
Tirupati – Guntakal  Passenger (daily)
Coimbatore-Mettupalayam Passenger (6 days a week)
Bhuj-Palanpur Passenger (daily)
Silghat-Chaparmukh Passenger (daily)
Siliguri-Dinhata Passenger (daily)
Abohar-Fazilka Passenger (daily)
Bilaspur-Katni Passenger (daily)
Raipur-Korba Passenger (daily)
DEMU
Following new DEMU services will be introduced:
1.   Gondia-Ballarshah
2.   Vasai road-Diva
3.   Ratlam-Neemuch
4.   Ratlam-Chittaurgarh
5.   Sealdah-Jangipur
6.   Ahmedabad-Patan
7.   Bangalore Cantt-Bangarpet
8.   Dharmapuri-Bangalore
9.   Marikuppam-Bangarpet
10.  New Jalpaiguri – Balurghat
11.  Falaknuma-Medchhal
12.  Mriyalguda-Nadikudi
13.  Kacheguda-Raichur
14.  Raichur-Gadwal
15.  Radhikapur-New Jalpaiguri
16.  Jalna-Nagarsol
17.  Nizamabad-Secunderabad
18.  Kacheguda-Mriyalguda
19.  Baripada-Bangariposi
20.  Sealdah-Bhagwangola-Lalgola
21.  Kolar-Bangalore
22.  Krishnanagar-Behrampore Court
MEMU
The following MEMU services will  also be introduced:
1. Ranchi-Asansol
2. Ernakulam-Kollam (via Alappuzha)
3. Vasi Road-Panvel
4. Bangarpet-Koppam
5. Falaknuma-Bhongir
6. Midnapore-Jhargram
7. Kollam-Nagercoil
8. Jhargram-Purulia  
Railways' earnings are set to exceed the Rupees one lakh crore mark for the first time.  
Banerjee informed the Lok Sabha that on the basis of freight traffic projection of 993 million tones and passenger growth of 6.4% over 2010-11, the Gross Traffic Receipts are estimated at Rs. 1,06,239 crore assuming a clearance of Rs. 200 crore from traffic suspense.  
Ordinary Working Expenses have been assessed at Rs. 73,650 crore.
This represents an increase of 9.9% over Revised Estimates of 2010-11 to cater for annual increments of salaries, DA, higher requirement for fuel and materials for increased level of activity and lease payments.  
The appropriation to Pension Fund is placed at Rs. 15,800 crore and to Depreciation Reserve Fund at Rs. 7,000 crore. Thus, as per the Railway Budget for 2011-12, Total Working Expenses are placed at Rs. 96,450 crore. A provision of Rs. 6,735 crore has been made for dividend payment leaving an "Excess" of Rs. 5,258 crore to be utilized for Development Fund and Capital Fund.
The Railway Minister said that as per the Budget Estimates for 2011-12, the expected Operating Ratio is 91.1%.