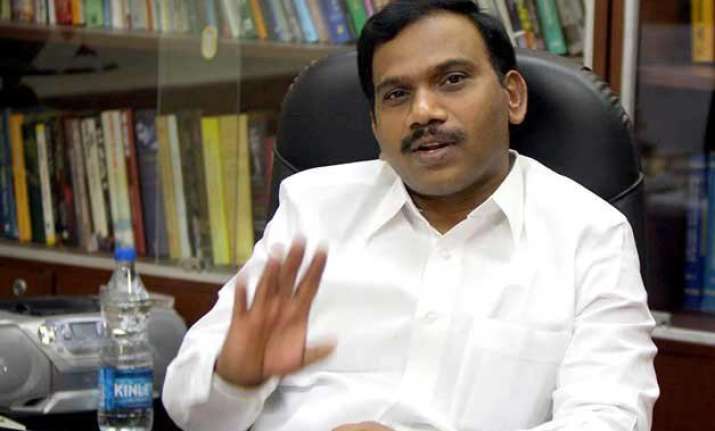 New Delhi: Former Telecom minister and 2G scam accused Andimuthu Raja has said that he did not commit any wrongdoings and only followed the law and the legacy as laid down by TRAI. He said that he was framed for breaking the cartel and monopoly in the field of 2G spectrum.
In an interview with the India Legal magazine, Raja questioned the CBI probe and said that he and his party DMK wanted to have a JPC probe or even a Special Investigation Team (SIT) to be appointed to investigate 2G. He maintained that the investigations done by CBI in the spectrum case was wrong and the CBI did not follow the procedures and did not go by the CAG report.
He said, "It conducted a so-called independent investigation. We cannot have it both ways. Prima facie, is the CAG report correct or not? The order passed by the Supreme Court must be honored."
He maintained that he followed rules in the allocation and discussed the matter with the finance minister directly and even exchanged letters on the subject.
Raja blamed the monopoly players and named a private telecom company for victimizing him. He said that he wanted equal chances for everybody and that is why he conducted auction which did not go down well with the companies which ruled the telecom sector earlier.
"The truth is that I waged a war against monopoly, cartelization and surreptitious exploitation of a natural source. I am not the only person who was charged for a crime I did not commit. I was charged because I stopped the telecom monopoly from committing fraud and crime. Truth will prevail. History will absolve me," said Raja.
Raja defended his decision and said, "I still stand by every decision I took. Investigations by the ED and other agencies could find no evidence of bribes and there is no case of disproportionate assets against me."
DMK leader, who had been MP for 13 years, said that spending time jail has offered him a different perspective and made him stronger.
Informing about the book he is writing a book to be published by Penguin. He promises to disclose dark secrets of 2G scams and why he was accused of corruption and abuse of power.