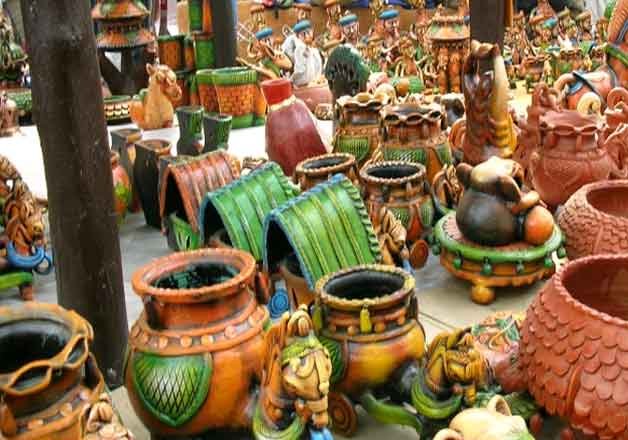 Surajkund (Har): The 29th edition of fortnight-long Surajkund International Crafts Mela culminated yesterday, recording a footfall of around 12 lakh visitors, including 1.6 lakh foreigners, this year.
Haryana Governor Kaptan Singh Solanki, who presided over the closing-cum-award presentation ceremony here, said it was heartening to see the mela being organised on this magnitude.  The fair contributes in stirring a spirit of unity and brotherhood among different nations, he said.  Solanki said the fair offered an ideal opportunity to bind countries together and think for a larger good with over 20 countries taking part in it and different folk cultures being unveiled during the fortnight.
Hailing the strong roots of Indian culture, he said, "India's culture and heritage had such strong roots that it could offer a solution for problems like terrorism and international strife, and along with 'yoga' it could help the youth imbibe a strong value system."
Assigning full credit to the mela for instilling harmony among different cultures, he highlighted upon Haryana's progress in every field including industry, agriculture and sports.
Chhattisgarh Governor Balram Ji Das Tandon was the special invitee on the occasion.
Tourism Minister, Haryana, Ram Bilas Sharma and Minister of State for Tourism, Haryana, Karan Dev Kamboj were among the guests who were present on the occasion.  Drumbeats and foot-tapping music gave the esteemed dignitaries a rousing welcome from the participating cultural troupes of various countries and states of the nation.  Sumita Misra, Managing Director, Haryana Tourism and Chief Administrator, Surajkund Mela Authority said "the mela is the biggest crafts fair of the world that symbolises brotherhood of cultures and has been indeed very successful this year".
The craft fair witnessed the record number of 12 lakh visitors, including 1.6 lakh foreigners, this year with more than 20 countries participating in it. S S Dhillon, Additional Chief Secretary, Tourism, Haryana and vice chairman, Surajkund Mela Authority, read out the performance report of the mela and highlighted that the fair had become a repository of arts and crafts from across the globe.
He said Lebanon, Sri Lanka, Nepal, Afghanistan, Bangladesh, Pakistan, Thailand, Rwanda, Syria, Vietnam, Uganda, Mongolia, Armenia, Azerbaijan, Russia, Belarus, Kyrgyzstan, Kazakhstan, Uzbekistan and Georgia participated in this edition of the fair.
Dhillon said last year the number of craftspersons to participate in the fair were 850 which increased to 941 this year, an increase of about 11 per cent.
"The total footfall of visitors last year was over 10 lakh, including 80,000 foreigners. This increase is a positive sign and would certainly be converting to increase in the tourism of the country," he said.
Zahir Ridwan, head of the Lebanese delegation, said this has been one-of-its-kind of an experience and they look forward to be a part of this fair next year too.  Karan Dev Kamboj, Minister of State for Tourism, Haryana said the arrangements made for the comfortable stay and transport of the participants from across the globe is commendable and 50 per cent discount extended to the youths and senior citizens are also the initiatives worth applause.  Ram Bilas Sharma, Tourism Minister, Haryana, said that the participation of 20 countries in the mela offers encouragement and motivation.
He further said the government shall think about extending the duration of the fair from a fortnight to one month, as it presented a colourful show of cultural performances, and blended the crafts and traditions of different countries beautifully.
Balram Ji Das Tandon, the Chhattisgarh Governor, complimented that Surajkund mela offered a great platform for the next generations to connect with culture and folk arts.  He further added that this mela offered a perfect opportunity to the states of the country in particular to showcase their culture and traditions.
During the closing ceremony, awards to artisans and craft persons were also given.
In the Kala Shree category of crafts person, Seema from Chhattisgarh was awarded the first prize in the category for her craft work in Godhna silk while Jai Ram Solanki from Delhi for his Dhokra craft was awarded with second prize.  Chan Chaiah from Andhra Pradesh, Janmamed from Gujarat and Kamini Kaushal from Bihar were also awarded prizes in this category for their skills in craft.
Ravindra from Chhattisgarh, Abdul Kadar Khatri from MP, Venkar Devjee Premjee from Gujarat, P Sangottu Vel from Tamil Nadu, Bhantu Chitrakar from West Bengal and Bana Devi from Bihar were awarded with awards in Kala Nidhi category.  Nisha from the host state Haryana was awarded with Kala Mani award for his specialised contribution in Marble stone craft along with eight artists from other states of the country and two artisans from Syria.
Mohd Ishaq Timorjada from Afghanistan was awarded with Kala Ratna for his work on Afghani carpets.