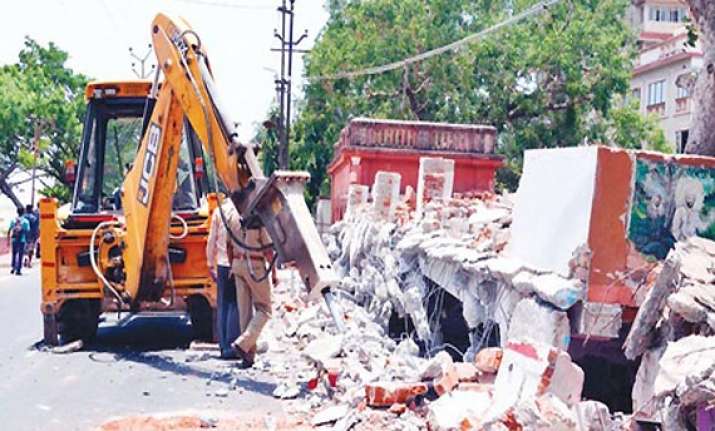 Cuttack, May 23: For the second consecutive day on Wednesday, the Cuttack district administration held back its illegal temple demolition drive in Cuttack city.
The drive was stalled as the administration feared a major law and order problem as in a unique way of protest, more than 2500 people, including women and children, chanted night-long prayers inside the Shiridi Sai Temple here at Khan Nagar.
Members from each family of the locality gathered at the temple premises on Tuesday evening when news spread that their newly-built temple would come under the bulldozers on Wednesday morning. In an impromptu meeting, the local heads decided that they would fight tooth and nail to save the temple that was built recently at a whopping cost of Rs two crore.
"As each family of the locality had contributed voluntarily to construct the temple, it is now the responsibility of each family to save the temple," said a local leader claiming that around 2500 people spent the entire night inside the temple singing bhajans and kirtans.
While the people stayed put inside the temple on Wednesday morning and vowed not to move an inch even if bulldozers ran over them, the district administration anticipating major law and order situation, held back its demolition drive for the day.
It was for the second consecutive day that the demolition drive was stalled.
Equipped with the High Court order, the district administration had launched the illegal temple demolition drive in the city since May 1. By now as many as 22 temples and other places of religious importance have been grounded in the city, which had come up illegally on government lands.
The district administration had identified at least 207 illegal structures to be pulled down, out of which 57 are located in the eastern part of the city under Chauliaganj, Madhupatna, Badambadi and Malgodown police stations.
Sources said, the CMC by now has spent more than Rs 30 lakh towards fuel expenses of bulldozers and vibrators used for grounding the temples.
Sources further informed that the civic body has now expressed its inability to remove the debris that have accumulated after demolition of the temples.