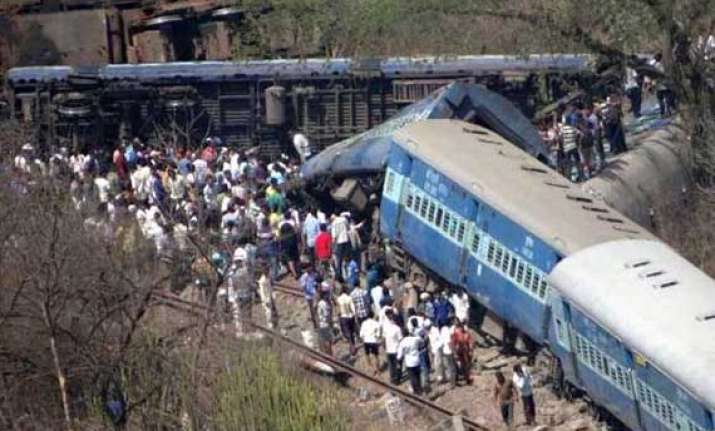 Raigad: Nineteen people were killed and 132 others injured when the engine and four bogies of a passenger train derailed on Konkan Railway route in Maharashtra's Raigad district today.
The accident occurred just outside a tunnel near Nidi village when the engine and four out of the 20 bogies of Diwa-Sawantwadi passenger train derailed at around 10 AM between Nagothane and Roha railway stations, about 120 kms from Mumbai.
According to Raigad police control room, 19 passengers were killed and around 132 others injured in the mishap, which took place in a remote area.
The death toll rose as more bodies and injured persons were found trapped when the overturned bogies were being removed, a police official said.
Rescue operations were underway, police said. Bodies were sent to Nagothane primary health centre for post-mortem, while six were taken to government hospital at Roha, the police control room said.
According to police, the 19 deceased were identified as Shraddha S Ukte (6), Shrutika S Ukte (30), Krishna Tukaram Shinde (70), Bharat B Surve (49), Surekha Jairam Nakti (35), Vikrat B Surve (22), Ganesh Ramchandra Chavan (32), Ganesh Narayan Chavan (32), Atul A Kharile (25), Hemant Pandye, Ajaykumar Madheriya (20), Prabhunath Rajghar (37), Rityam D Kaljavkar (42), Mithin Joshi (24), Rupesh Dagdu Narve (28), Kalpesh Chandrakant Chavan (60), Subhash Jadhav (42), Vasanti Kashinath Bhuvad (62) and Pintu Gosavi (30).
Of the injured passengers, a majority were being treated at Roha government hospital and the rest at Nagothane primary health centre, it said.
Following the mishap, services on Konkan Railway route were suspended. According to railway authorities, some trains were diverted via Panvel-Lonavala-Pune-Miraj-Londa-Madgaon and a few cancelled.
A goods train had derailed last month on the route, affecting services.
The Railways ordered an inquiry and Railway Minister Mallikarjun Kharge announced an ex-gratia of Rs two lakh each for the next of the kin of those killed in the accident, Rs 50,000 for the grievously hurt and Rs 10,000 for passengers who suffered minor injuries.