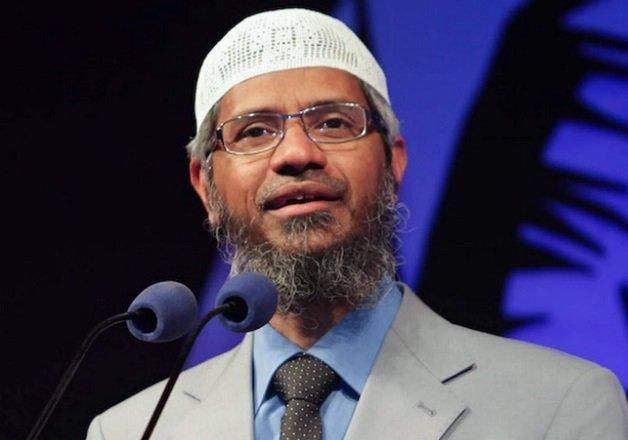 Controversial Islamic preacher Zakir Naik, who has come under the scanner of probe agencies for spreading hatred through his lectures, slammed the Indian media for showing 'doctored clips' of his sermons and rubbished suggestions about him supporting terrorism.
In an interview to a news channel on Monday, Naik said that he is a "victim of media trial", who was banned from UK and Canada in 2010 for his controversial lectures.
"I have heard many allegations against me in the India media...as far as being afraid is concerned... I am not afraid at all. So far, there has been not a single Indian government authority which has called me. Just because the media has labelled allegations against me ...I am not going to come to India for a media trial," he said.
"There has not been a single lecture of mine spreading hatred among communities. All my speeches deal with communal harmony. The media have done a devilish thing. They have picked up my sentences out of context...they've quoted half my sentences. And some of the clips being shown are doctored," he added.
Naik also challenged Indian media to run his full lectures and compare them with Vishwa Hindu Parishad (VHP) president Praveen Togadia.
He further denied allegations that his followers included attackers of Dhaka's Gulshan cafe that left 22 people killed.
"A Bangladeshi newspaper carried a false story about me influencing one of the Dhaka attackers. The Indian media quoted this report. However, when the newspaper apologised for publishing that article the next day nobody carried it. I never asked Muslims to take up arms against the US or anybody. I have done nothing wrong. I have never created disharmony or run down other communities," he said.
One of the attackers of the terror attack in Dhaka, the 22-year-old Rohan Imtiaz, had quoted Naik in a Facebook post in January this year where he had urged 'all Muslims to be terrorists'.
Naik, who cancelled his return to India after his name was mired in the controversy in the aftermath of Dhaka cafe attack, however, backed Prime Minister Narendra Modi's quest to improve relations between Hindus and Muslims.
"He (Modi) is the first PM of India in so many years who has visited a lot of Muslim countries in such a short span of time. If the government needs co-operation from me, I am ready," he said, adding that "If PM Modi is trying to build harmony between Hindus and Muslims, I am all for it."
When asked about his views towards Islamic State and Taliban, he said that they are killing innocent people, which according to the Quran, is a sin against humanity.
"It is wrong to call ISIS Islamic state. They are un-Islamic and I denounce and condemn terrorism… they kill innocent people," he said.
"I call Quran the future Constitution of the world," Naik, who is currently in Saudi Arabia, added.
The activities of Naik's Mumbai-based Islamic Research Foundation (IRF) has also under the scanner of Home Ministry and several probe agencies amid allegations that funds from abroad received by it have been spent on political activities and inspiring people towards radical views.