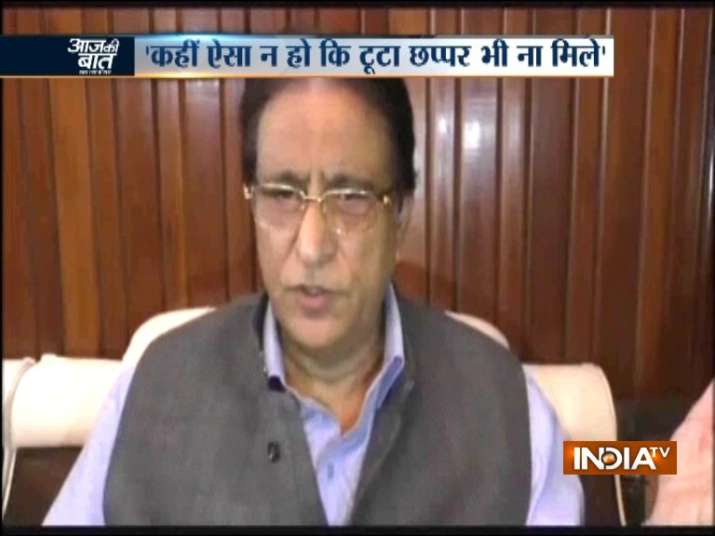 Former Uttar Pradesh cabinet minister and Samajwadi Party (SP) leader Azam Khan has threatened the district magistrate (DM) of Rampur for taking action against his Maulana Mohammad Ali Jauhar University in the case of land grabbing in Uttar Pradesh's Rampur district.
"Don't take enmity to such a level that after four years, you couldn't find a place to hide," said Azam Khan while addressing a public meeting. 
Another reason of Azam's annoyance was that his representative Fasahat Ali Khan had threatened the Rampur DM, following which the latter had registered a case against Fasahat.
The alleged land grabbing case involving Azam Khan came light after a report filed by the DM said that 16 bighas of government-owned village roads, valued at Rs 6 crore, were illegally transferred by officials to the Maulana Mohammad Ali Jauhar Trust owned by Azam Khan during SP rule. 
The DM was directed by Chief Minister Yogi Adityanath to inquire into allegations that government land had been handed over to Azam Khan's trust, following a complaint by a Rampur-based industrialist Akash Kumar Saxena. 
The inquiry found that the road, belonging to gram samaj land, including 'chak road' (village road), was illegally transferred in 2012-13 to Maulana Mohammad Ali Jauhar University owned by the trust. 
It was also found that non-transferable gram samaj land of Sikankhera, Shaukhat Nagar and Aliaganj villages was transferred to the trust by flouting the law. 
How the land was illegally transferred
Azam Khan had laid the foundation of Maulana Mohammad Ali Jauhar University in 2006, when he was a cabinet minister in the Samajwadi Party government. 
He first bought the inundated land near the river at dirt cheap prices and then got it exchanged with the costly government land. It is also alleged that Azam Khan blocked the road going to the villages, and illegally occupied a government guest house. 
Rampur district magistrate has referred the alleged land grabbing case to the Revenue Board.
In 2006-07, residents of Sikankhera, Aliaganj and Shaukhat Nagar villages launched a protest demonstration in front of Jauhar University gates against the illegal encroachment on gram samaj land by Azam Khan's trust.
Following this, the then chief minister Mayawati ordered a probe into the matter based on the complaint filed by villagers. The inquiry found that the walls and the other structures of the university campus were illegally constructed on gram samaj land, and were demolished. Also, the land in question was seized after deploying heavy police force on the varsity campus.
However, when the Samajwadi Party came back to power, things got on track for Azam Khan and his university.
Yogi govt acts after industrialist files complaint
Earlier this year, Akash Kumar Saxena, an industrialist from Rampur, filed a complaint against Azam Khan, alleging illegal inhabiting of government land meant for village roads. 
In an exclusive interview to India TV, Saxena alleged that Azam Khan had begun the planning to grab the government land way back in 2003. When the Samajwadi Party came to power in 2012, rules were kept at bay to get things done in favour of Khan.
Saxena further alleged that besides government land, Azam Khan also usurped a vast area of village land and enemy land.
He said that Azam Khan has also illegally occupied a government guest house, which is used only by him.